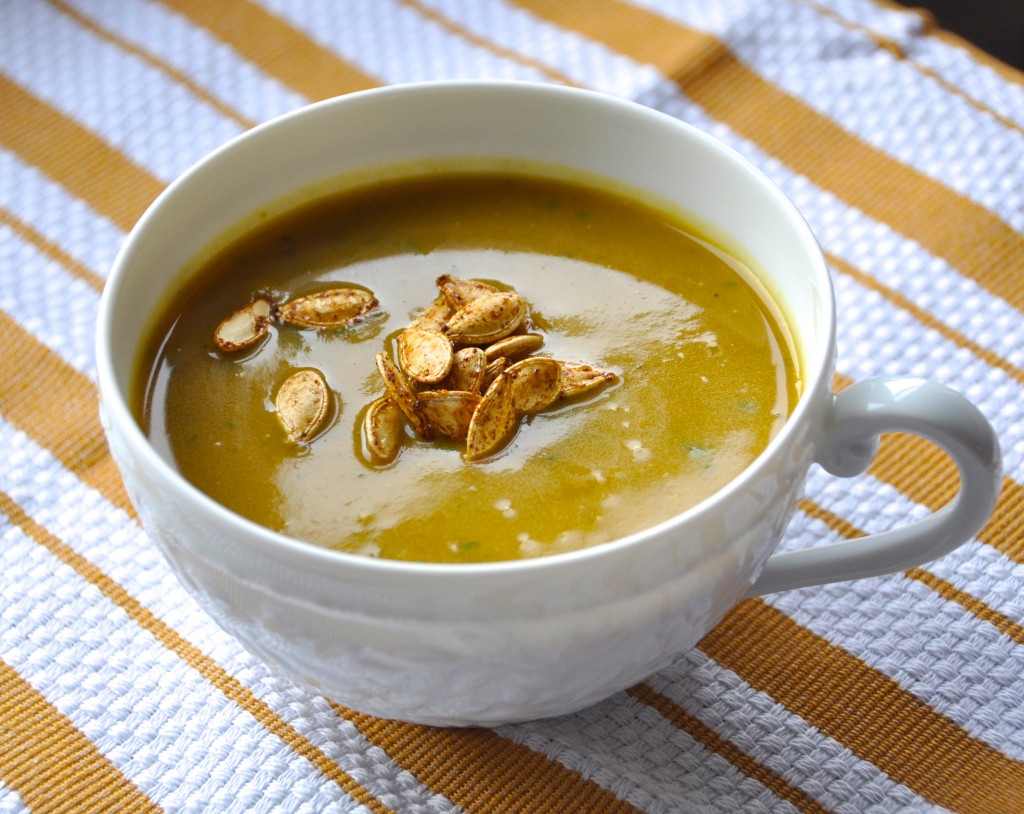 Following on from Charity's post on small-space-friendly pumpkins, I had planned to whip up something exciting and adventurous with a perfectly formed and almost-too-cute to eat pie pumpkin I was lucky enough to land. (Full disclosure, I bought it at Dean & DeLuca as I am sadly lacking in home-grown harvest. )  Most of the giant orange orbs you find around Halloween and Thanksgiving tend to be field pumpkins intended to add festive decor to the holiday table  or frighten little gouls on your doorstep rather than to be eaten as part of a celebratory meal.
So with my rare, edible pumpkin in hand, I contemplated such delights as a pumpkin meringue pie, chipotle spiced pumpkin biscuits and even pumpkin buttermilk pancakes. Alas, I awoke today to find lower Manhattan miserably engulfed in dense, unforgiving fog and a pitiful mist of rain. This was no time for novelty. This was time for old fashioned comfort. And so I soothed my culinary id and began my preparations for pumpkin soup. Of course, while soup is comfort food, it can still be adventurous. With these two principles in mind, my Curry Spiced Roasted Pumpkin and Coconut Soup came to be.
Curry Spiced Roasted Pumpkin and Coconut Soup
Serves 2 to 4
Before you even think about taking a pumpkin into the kitchen, make sure it's the eating kind. Pumpkins meant for decoration tend to be stringy, tasteless and full of water. Try and find Pie Pumpkins if you can. As the name aptly suggests, this variety has smooth, creamy flesh that delivers delicious pie as well as a whole host of other tasty dishes.
This recipe makes a robustly flavored soup bursting with aromatic, pungent Indian spices. If you prefer your soups more mellow, feel free to cut down on the spice or add more coconut milk which will render a creamier, milder concoction. Garam masala is a heady Indian spice blend that's called for among the ingredients. It's found in the spice or ethnic sections of most larger grocery stores and supermarkets. If you can't get hold of it, use a mild curry powder instead.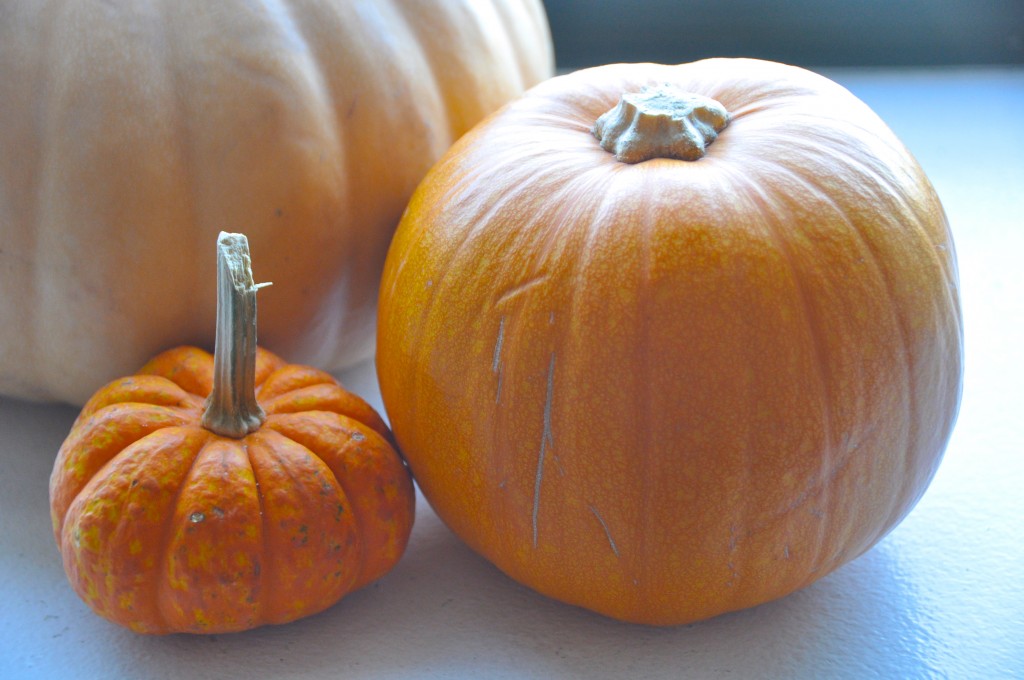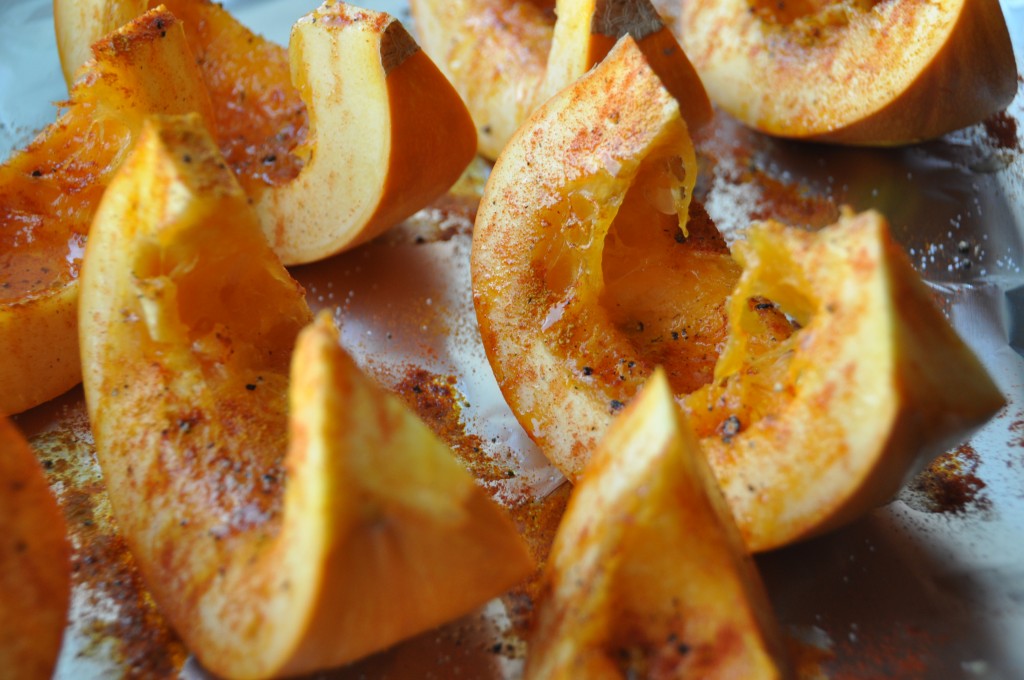 For the Roast Pumpkin
½ tsp paprika
½ tsp ground turmeric
½ tsp ground fennel
1 small Pie Pumpkin (or other edible variety), about 2 ½lb, seeded and cut into 8 wedges (Keep the pumpkin seeds to garnish, if desired)|
Salt and freshly ground black pepper
Olive oil
For the Soup Base
2 Tbs olive oil
1 medium onion, chopped
Salt
2 small cloves garlic, minced
1 tsp finely grated peeled fresh ginger
½ tsp garam masala
½ tsp ground cumin
½ tsp ground coriander
¼ tsp ground cayenne
2 cups just-boiled chicken broth
Freshly ground black pepper
3/4 cup unsweetened coconut milk
2 cups just-boiled water
¼ cup soft brown sugar
1 ½ Tbs apple cider vinegar
2 Tbs finely minced fresh cilantro leaves
Preheat the oven to 420F.
Combine all the spices for the roast pumpkin in a small bowl. Place the pumpkin on a rimmed baking sheet and sprinkle the spice mix evenly over all the wedges. Drizzle generously with olive oil, and season with salt and pepper. Roast for 50 minutes to an hour, until the pumpkin is fork tender.
When the pumpkin is cooked, remove from the oven. When cool enough to handle, skin the pumpkin. Slide a sharp paring knife between the skin and the flesh of a pumpkin wedge at one end then draw the knife all the way along the bottom of the wedge to the other end. You should end up with a thin layer of skin and a crescent of flesh. Repeat with the remaining wedges and discard the skin. Roughly chop the pumpkin flesh and set aside.
To make the soup base, heat the 2 Tbs olive oil in a medium heavy-based saucepan over medium high heat. When hot, add the onion with a pinch of salt. Cook for 3 to 4 minutes, stirring, until the onion is translucent, tender and slightly golden. Add the  garlic and ginger and cook, stirring for a further 2 minutes. Add all the spices and stir to combine. Cook for one minute until fragrant then toss in the chopped pumpkin. Cook for 2 minutes mixing and crushing the pumpkin to coat in the spice and onion mixture.
Add the hot chicken broth, and bring up to the boil. Season generously with salt and pepper. Lower the heat to medium low and simmer for 10 to 15 mins.
Remove from the heat, and leave to cool for about 5 minutes. Using a blender or a hand held blender, blitz the pumpkin and broth mixture until completely. Return the soup to the saucepan, if necessary, and place over a medium heat. Add the coconut milk, hot water, brown sugar and vinegar. Bring the soup up to the boil and simmer for about 6 to 8 minutes. Taste and add more salt and pepper if necessary and thin the soup with more just-boiled water, if necessary. Stir in the cilantro, and remove from the heat. Serve in small bowls  or mugs (this soup is rich!) garnished with toasted pumpkin seeds, if desired, and accompanied with warm flatbread or naan bread
Toasted Pumpkin Seeds to Garnish: Reserve about ⅓ cup pumpkin seeds. Discard any stringy fibers from the seeds, then wash and dry using paper towels. In a small bowl, toss the seeds with ¼ tsp canola oil. Then, add generous pinches of ground cumin, paprika, fine sea salt and two generous pinches of granulated white sugar. Mix well and transfer to a baking sheet and roast in a 360F oven for about 12 minutes until toasted and a deep golden brown color.
Tags:
pumpkins
,
soup