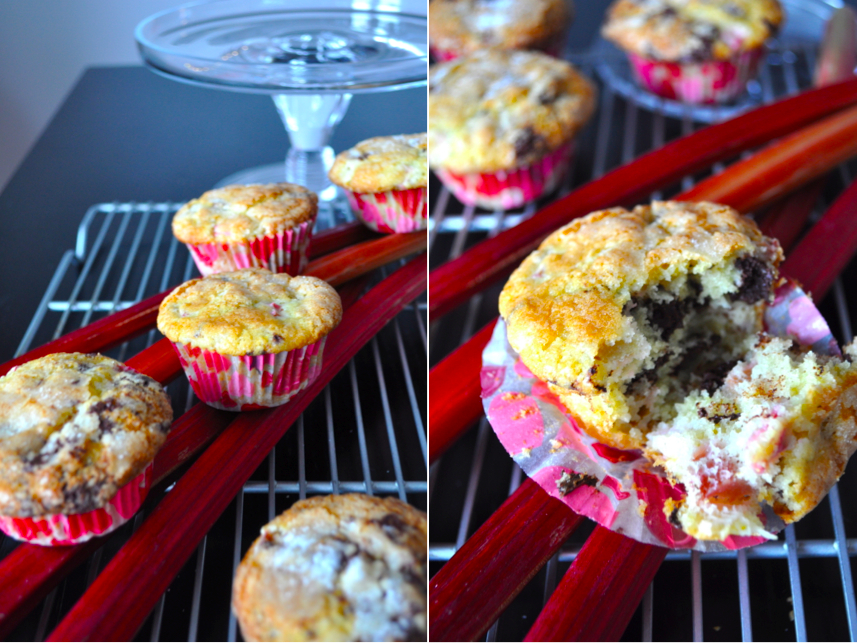 You'd think I had a stake in a rhubarb farm if you'd come over to my house in the last couple of weeks. If you'd opened up the fridge, you'd have been met with multiple vibrant pink stalks poking out at you. If you'd stayed for dessert, the stalks would have transformed themselves into subtle, dusky pink chunks, made tender and mellow through a sojourn in a hot oven, swimming in pretty, rose-colored syrup. If you'd stayed for tea, or even had the tenacity to linger until breakfast, you'd have met rhubarb again, this time languishing – juicy and relaxed – with its best friends, strawberries, under a crumbly, decadent topping of oats, brown sugar, flour, butter and sliced almonds.
But no, I have no stake, just a propensity for obsession. And so it goes, I currently seem to have a rhubarb fetish. I just can't get enough of the stuff with it's distinctive mouth-puckering tang that, when paired with copious amounts of sugar, make for the most palate-awakening confections. Then there's the fact that I can claim to be eating vegetables…for dessert. This assertion – well, it's priceless, really.
What's What: Yes, indeed, rhubarb is a totally legit vegetable that belongs to the "Rheum" genus and that comes into season in June. (And if you have two servings of pie or crisp, well I think that should definitely  go towards your daily intake of fruit and veg.) Rhubarb is essentially a celery-like plant with edible, intensely sour and intensely colored reddish-pink and green stalks. You're unlikely to encounter the large green leaves of rhubarb unless you grow it yourself, but it's still worth knowing that you should never, never eat rhubarb leaves as they contain a poisonous toxin called "oxalic acid." To make a simple compote, gently simmer chopped 1/2-inch chunks of rhubarb with 1/2 to 2/3 of a cup of sugar per pound of rhubarb and a little grated ginger or orange zest for about  20 minutes until tender.
How to Buy: Look for thin, crisp, firm stalks with as few blemishes as possible, and a bright, vibrant hue.
How to Store: Slice off the ends, then wrap in plastic or in slightly dampened paper towels and store for up to one week in the fridge.
As you may have already guessed, this is a post in Three Acts. Look out for Acts Two and Three, coming shortly. I promise they'll be just as rhubarb-y and just as enticing.
Rhubarb, Orange and Chocolate Chunk Muffins
Makes 9 muffins
1 cup  (4-1/2 oz) all-purpose flour
1/3 cup plus 2 Tablespoons granulated sugar
1-1/4  teaspoon baking powder
1/2 teaspoon baking soda
1/4 teaspoon salt
1/2 cup Greek yogurt (or 1/4 cup greek yogurt and 1/4 cup creme fraiche)
1 Tablespoon milk
2 oz (4 tbs) butter, melted and cooled slightly
1 large egg, lightly beaten
Finely grated zest from 1 large navel orange
1 teaspoon pure vanilla extract
1 cup diced rhubarb (about 3 -1/2 oz)
2 1/2 oz dark chocolate, chopped into chunks
Position a rack in the center of the oven, and heat the oven to 400°F. Line a 12-cup muffin tin with 9 paper cups.
1. In a large bowl, combine the flour, sugar (setting aside 1 Tablespoon), baking powder, baking soda, and salt, and mix well. In a medium bowl, whisk together the yogurt, milk, melted butter, egg, orange zest and vanilla until smooth. Gently stir the liquid mixture into the dry ingredients with a spatula until the batter just comes together; do not overmix. Gently stir in the diced rhubarb and chopped chocolate. The batter will be thick.
2. Divide the batter equally among the muffin cups, using a spoon to ensure that there are no air bubbles trapped. Sprinkle the remaining tablespoon of sugar over the muffin in an even layer.
3, Bake the muffins until they're golden brown, and a tooth pick or skewer inserted in the center comes out clean, about 18 to 20 minutes. Transfer to a rack and once the muffins have cooled in the pan for 5  minutes, carefully lift the muffins out of the pan. Serve warm or at room temperature.
Tags:
dessert
,
muffins
,
rhubarb