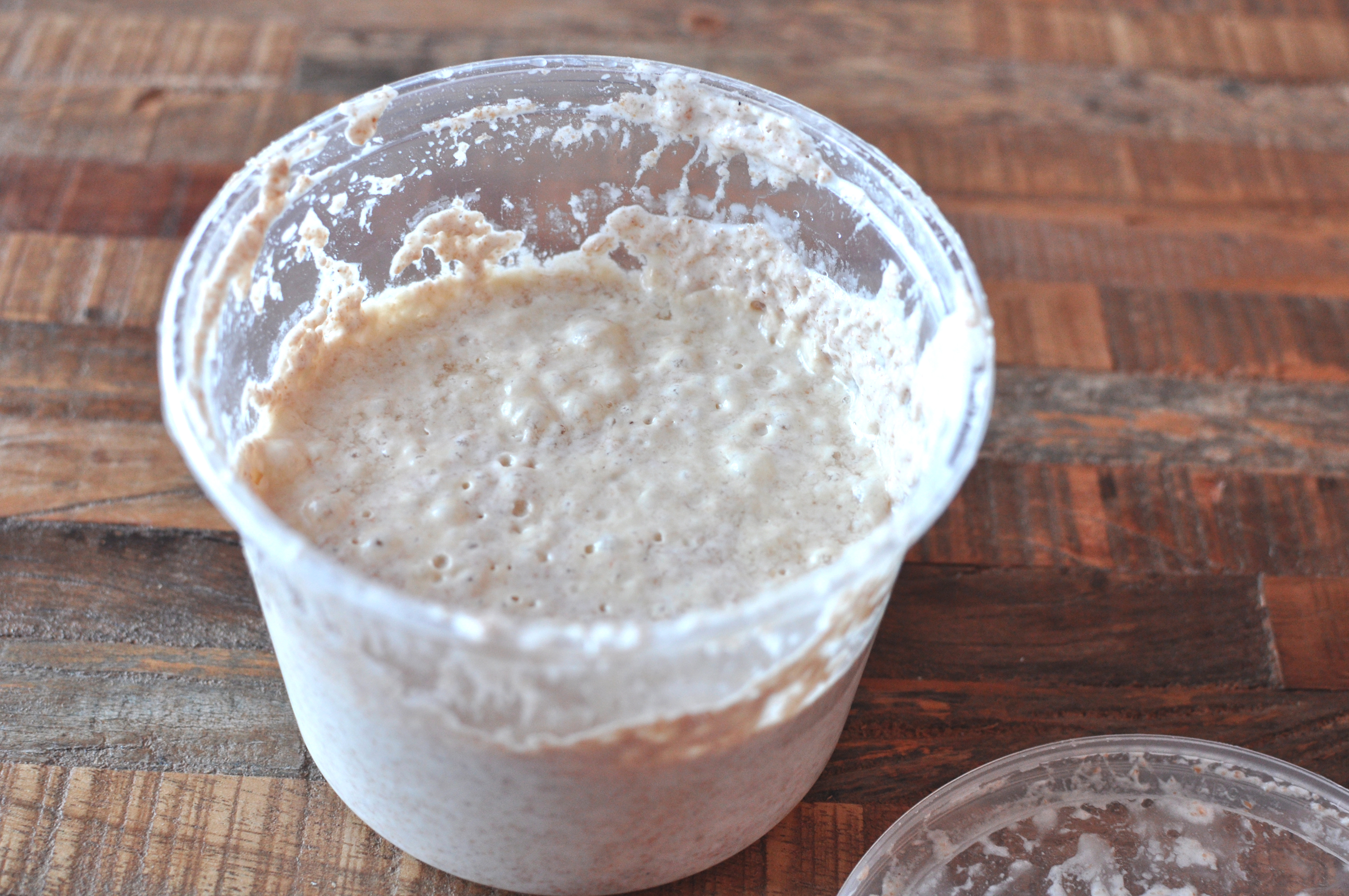 When I was at culinary school some years ago, a core part of the curriculum was bread-making. I remember my final exam involved preparing a three-course meal which included made-from-scratch ravioli, puff pastry, and  bread, all within the space of about 5 hours, and then there was all the other dishes we had to make. As you can probably guess, time wasn't on my side: every second, minute, was hugely valuable and couldn't be compromised. There was no waiting around endlessly while the bread dough languorously  extended its gluten strands. I had my deadline, and the finished loaf had to be there, risen, baked and golden-brown when I needed it to be. It was with this philosophy in mind that I have been making bread for the last 6 or so years. And the key, if you're racing against the clock, is to use instant, fast-acting yeast, and a lot of it.
Boy, did I have it wrong all that time.
I recently attended an artisanal bread-making course at NYC's Institute of Culinary Education. If there was one thing I took away from the 3-day program, it was that you simply can't rush bread, or great bread, at least. In fact, it seemed that if I wanted the ultimate, most ethereal sourdough loaf with a crackly, crunchy crust, tender yet perfectly chewy interior and flavorful tang I had to mold my schedule to the needs of this high-maintenance creature.
From start to finish, a loaf can take nearly 24 hours to produce, and that's even not including the time spent nurturing your entirely home-made starter (add another couple of weeks for that!). Sure, you can make bread using instant yeast – I did, for many years, but once you taste a loaf crafted by your own hands that was made by a  home-grown leavener – or raising agent – you won't want to go back. Instant yeast makes for decent enough bread  but because it has little "character," and the bread rises so quickly and doesn't have the time to develop its own personality, the flavors are one-dimensional and bland compared to the wonderfully nuanced, tangy notes produced by a genuine sourdough starter.
What actually is a starter, then? Essentially it's a leaven consisting of a loose batter of flour and water in which yeast is continually re-producing helped along with regular, weekly feedings of more water and flour. As the yeast in the starter consumes this fresh food and digests the sugars in the flour, they not only remain alive and kicking but they reproduce, and expel carbon dioxide – which is why you'll see little bubbles in your starter. Happily co-existing alongside the yeast are bacteria, harmless ones, which give sourdough its flavor. This benign bacteria known as Lactobacillus, produces a lot of lactic and acetic acid, which is responsible for the characteristic tang.
Generally speaking, when a little bit of this starter is combined with flour and water to produce a dough, the yeast within the starter becomes even more active and stimulates the dough to rise by producing much-needed carbon dioxide which is what gives bread its light, airy texture. The dough is then shaped, left to rise again, and baked.
Some sourdough starters are made from commercial baker's yeast, but this isn't a true natural starter. The best starters rely only on the natural yeasts that exist in the environment around us – and believe me, there are plenty of them. You'll see the difference in the crust and you'll definitely taste the difference – wild yeasts seem to contribute a more complex, multi-dimensional flavor, and bring more tang to the table. An additional benefit of natural starters is that they have far superior keeping powers than commercial yeast so your loaf will last considerably longer.
I was lucky enough to have been given some natural sourdough starter from the instructor of my bread-making course – Peter Berley, who incidentally, is a terrific teacher – check out his website for a list of all his culinary courses in NYC and in his North Fork kitchen. But if you don't have the same fortune to come upon a good-natured stranger who'll share his stash of carefully cultured yeast, below is a recipe from Peter Berley's cookbook, The Modern Vegetarian Kitchen, on how to make your own natural starter from scratch.
You'll note that Berley uses grapes to give his starter a boost. He says that that because white flour is the product of just the endosperm of the wheat kernel, it is without the lactic acid-producing bacteria and wild strains of yeast that live in the outer layers of the seed coat. The grapes compensate for this lack. If you have a super clean kitchen, you might want to leave it to get a little more, um "lived in," just to encourage some of those yeasts to thrive. I don't mean you should let your kitchen get scummy, just lay off all those ultra strong disinfectants and bleaches for a while. And leave out some fruits and vegetables – as this too will encourage the yeasts that you want in your starter.
Click on for the recipe! And don't forget to check back in a few days for a step-by-step guide on how to actually make that perfect loaf of sourdough.
White Sourdough Starter
from The Modern Vegetarian Kitchen by Peter Berley
1/2 pound organic sweet red or green grapes
5 pounds organic unbleached white bread flour
Nonchlorinated water
1. Rinse the grapes briefly under cold running water if necessary. If the grapes appear clean, do not bother to wash them, so as not to sacrifice any of the yeasts clinging to their skins. Place the grapes in the center of a double layer of cheesecloth and tie up the corners to form a neat bundle.
2. In a 2- or 3-quart sterilized glass, plastic, or earthenware container, combine 2 cups of the flour and slightly more than 2 cups of the room-temperature non chlorinated water and stir to form a paste. Squeeze the bundle of grapes over the batter so that most of their juice comes out. Stir well. Submerge the cheesecloth bundle in the batter and secure the container with a tight-fitting lid or several layers of plastic wrap. Set aside at room temperature, out of the way of drafts or intense heat, for 3 days.
3. Once a day, uncover the starter and, using a sterilized utensil, stir the bundle of grapes around in the batter.
4. On the fourth day, uncover the container and stir in 1/2 cup room temperature water and 1/2 cup of the flour. Replace the cover and set aside for another 6 days. Make sure that the starters does not get too warm. Don;t worry if the starter separates and has a yellowish liquid on top. It may also have a funky or sharp alcohol odor after 4 or 5 days, but eventually the yeasts will build up in number and begin to exude a pleasant aroma.
5. Starting on the tenth day, you will need to feed the starter 3 times per day for 4 days. Rinse out a 1 1/2 to 2 quart glass, plastic, or earthenware container with boiling water. Let it air-dry ad cool well and pour 2 cups of it into the prepared container. Give away or discard the remaining starter. Add 1/2 cup room-temperature water and a heaping 1/2 cup flour. stir well, cover, and let the starter ferment for 4 to 6 hours. Finally, feed the starter 2 cups room-temperature water and let ferment another 4 to 6 hours, Finally, feed the starter 2 cups room- temperature water and 2 cups flour. Stir well, cover and let the starter ferment overnight, for up to 12 hours.
6. The next day, discard all but 2 cups of starter, and repeat the same feeding schedule for 3 more days. Remember to begin the process each day with only 2 cups of the starter.
7. About 8 to 12 hours after the final feeding on the 14th day, your starter is ready to be used. At this point you can store it slightly covered in the refrigerator.
FEEDING YOUR STARTER
Making a great starter is only half  the battle, you also have to maintain it, which is not unlike having a pet, or, some might say a very low-mainenance child! Once a week remember to feed it with 1/2 cup of non chlorinated water and 1/2 cup of flour. or, you can do this twice a week with 1/4 cup of water and flour. When you feed it, you might want to discard a tablespoon or two of the starter so that the amount doesn't grow too big. Remember your starter is alive and growing which means it'll increase in volume.
Stay tuned for the next post where we'll get into the nitty gritty of how to make bread using your natural, homegrown starter! I'm off to feed mine now…
Tags:
bread
,
sourdough
,
starter
,
yeasts