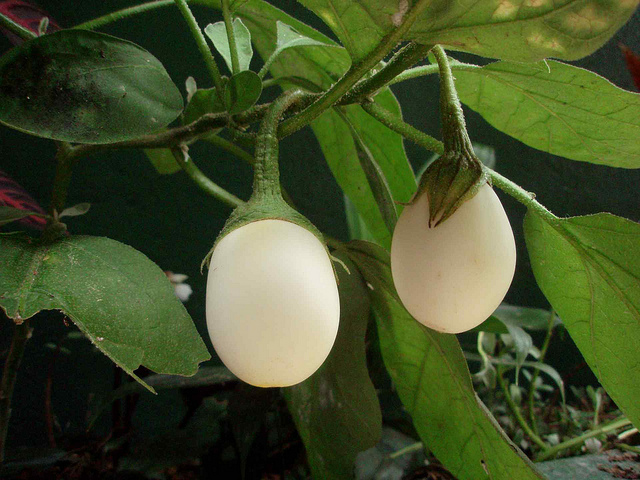 (image)
White eggplants have a reputation for being sweeter and less prone to bitterness than more traditional purple eggplants. So that's certainly one reason to grow them. Plus they're harder to find at the grocery store, and sometimes they don't show up even at the farmers' market, so if you want white eggplant the surest way to get it is to grow your own. But then there's the real reason I grow them in my garden: they glow like ghosts, these wonderful white orbs, hanging from their green stems with a sort of otherworldly radiance in both sunlight and moonlight. They're the sort of vegetable that beckons.
I had my cherry tomatoes next to my white eggplants all summer, and while the tomatoes were eye-catching little fireworks — a pop of red here, a pop of red there — the mysterious, ethereal white eggplants were where my eye always lingered. Certain varieties are almost uncannily beguiling. Take the Easter Eggplants pictured above (sometimes known by their fancier German name "Osterei"). They emerge from the plant's pollinated flowers looking just like hen's eggs or lightbulbs. I dare you to plant them and not fall in love. They're like a junior high crush you just can't stop staring at.
Should you prefer a white eggplant with a more heft, consider the weighty Ghostbuster (in the middle below). The fruit matures to a fat oval about seven inches long. Casper (on the left) is a sleeker and a little smaller (usually about five to six inches), and is reportedly mild enough to make a delicious raw snack. Then there is the lovely Tango (on the right). The same length as the large Ghostbuster, but such a nice ivory torpedo.

Sources for all four varieties after the jump. And rest assured, we're not going to skip purple eggplants. I just had to linger lovingly over these ghostly beauties in a post all their own. Come on, they're irresistible, aren't they? 
You can get seeds for all these gorgeous white eggplant varieties from all sorts of sources, but should you care for some quicklinks, here you go!
Tags:
eggplant
,
white eggplant