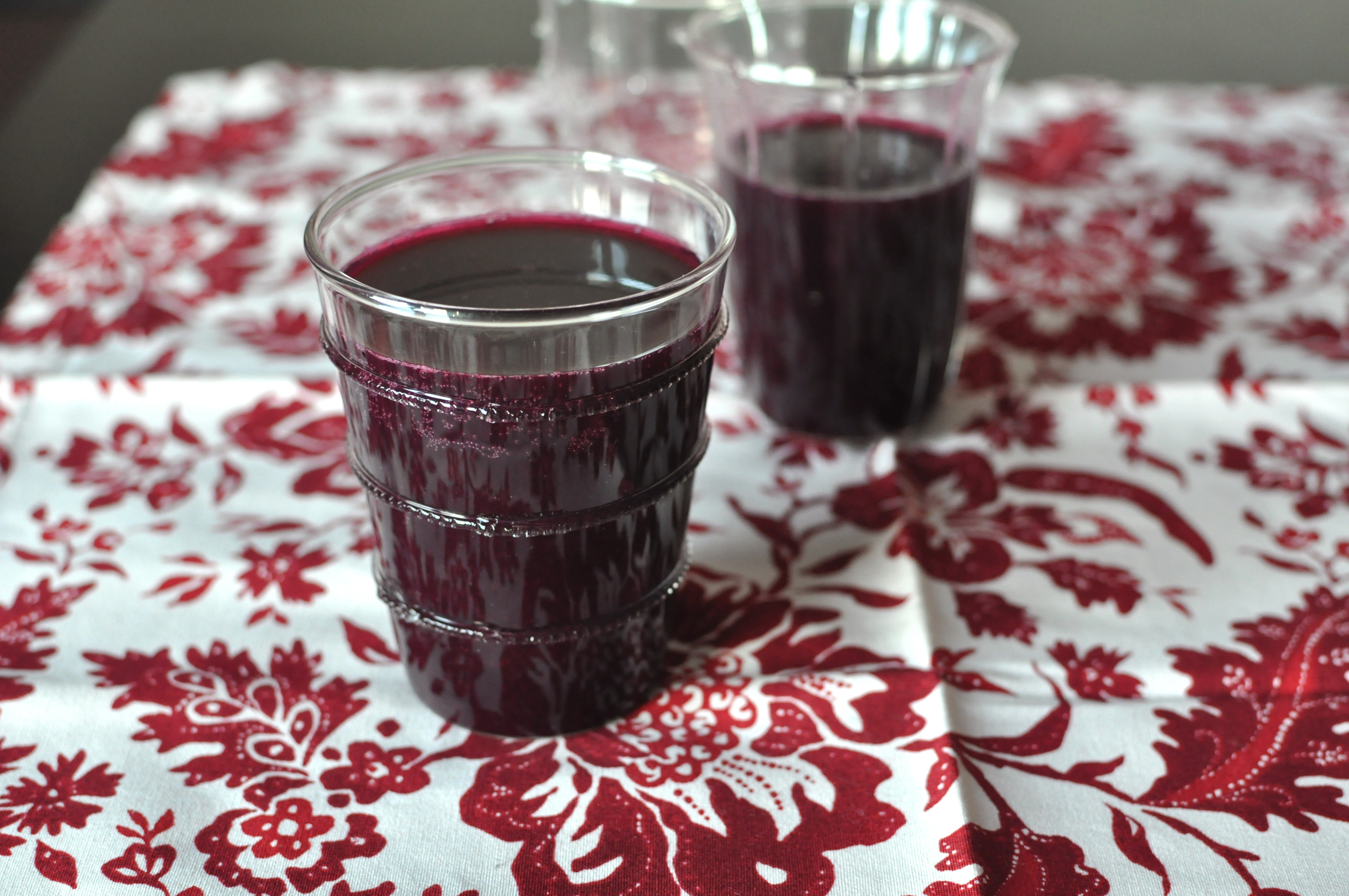 If you think the concoction in the photo above looks tasty. You'd only be half right.  It was downright life-alteringly tasty.
Now, I know I'm prone to exaggeration every now and then, but seriously, just try combining homemade Concord grape juice with sparkling water and a little simple syrup, and I promise you, your approach to fruit beverages hence forth will never be the same again.
I made this for my husband after he came home from a particularly tough workout. Not only did he extol its deliciousness, but he now believes it to be some kind of magic, revitalizing elixir. Yes, my husband is also prone to occasional bouts of exaggeration. But actually, he probably isn't far off the mark. Red and purple grape juice is jam-packed with health-protecting antioxidants, and studies have linked the salubrious nectar to a reduced risk of blood clots and well as to helping maintain a healthy blood pressure.
Making grape juice is really more of an extraction process, and it definitely bears some resemblance to the initial stages of wine-making. You want to make sure to "press" as much color and flavor out of the skin and seeds as possible – especially as that's where all the antioxidants are. You'll probably be surprised at how thick and deeply-colored the end product is compared to the thin, translucent juice that you start with.
Read on for easy-to-follow instructions for making your own grape juice, and 4 simple recipes to use it in.
This is how you do it:
1 pound of Concord grapes will yield a little over a cup of juice. Stem the grapes and remove any vineyard debris. Wash the grapes thoroughly in a colander, shaking off as much of the water as possible. Place the grapes in a saucepan (see photos below, I used 1 pound of grapes). Using a potato masher smash the berries to extract the juice until it looks like the top left photo below. Transfer the pan to the stove top. Bring the grapes and juice to a boil over a low heat, all the while mashing the skins and seeds and flesh to extract as much flavor as possible from the grape mush. You see the juice getting thicker and developing a deep, dark rich purply blue color. Once the mixture reaches a boil, remove the pan from the heat. Leave to cool for a few minutes, then pass it through a fine metal sieve, pressing the mixture down with the back of a spoon to extract as much of the juice as possible. Leave to cool completely before using. The grape juice will keep in the fridge in a covered container for 2-3 days.
Concord Grape Spritzers: Pour a 1/4 of grape juice into a small glass. Add 1 Tbsp of simple syrup (made from 2 parts sugar to 1 part water), then top up with ice cold sparkling water.  Taste, adding a more syrup is necessary.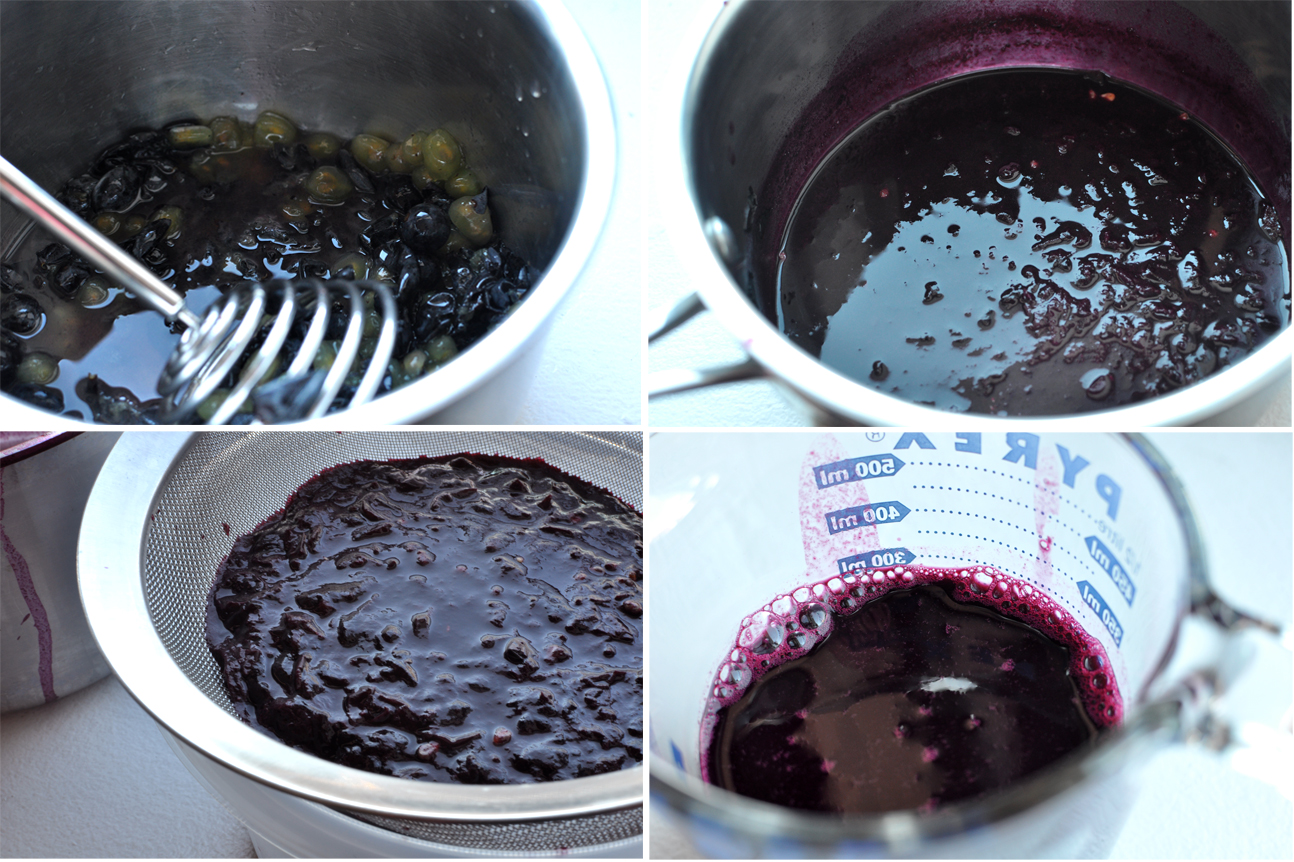 Had your fill of grape spritzers? Here are three other great recipes to use your homemade grape juice in.
Grape Marshmallows
from Todd English's Olives restaurant in Union Square
1/3 cup plus 1 tablespoon Concord grape juice
4 tsp. gelatin powder (unflavored)
1 cup confectioners sugar
1 cup cornstarch
1/3 cup water
1 cup plus 1 tablespoon sugar
1 Tbs. light corn syrup
1 large egg white
Combine juice and gelatin in a bowl and let bloom. Mix confectioners sugar and starch and set aside. Combine water, sugar and corn syrup in a sauce pot, and cook until 121 degrees C on a candy thermometer.
Meanwhile, use the whisk attachment on a mixer at a medium setting to beat egg white until frothy. When the sugar reaches the right temperature, slowly add it to the egg white, and then add gelatin mixture. Beat on high for 15 minutes until thick and coat a cake pan with the starch mixture.
Pour the finished marshmallow in the pan top with the rest of the starch and let set up in the refrigerator.
Striped Purple Grape and Panna Cotta Parfait
by Grace Parisi
From FoodandWine.com
3 cups unsweetened Concord grape juice
2 3/4 teaspoons unflavored gelatin
1 cup plus 2 tablespoons heavy cream
3 tablespoons superfine sugar
Four 1-inch strips of lemon zest
1 cup plus 2 tablespoons buttermilk
Amaretti cookies, for serving (optional)
In a medium saucepan, boil the grape juice over moderately high heat until reduced by half; let cool. Transfer 1/4 cup of the juice to a small skillet. Sprinkle 1-1/2 teaspoons of the gelatin over the grape juice and let stand until softened, about 10 minutes. Warm the gelatin mixture over low heat, stirring once or twice until dissolved. Let cool, then stir the mixture back into the remaining cooled grape juice; reserve 3/4 cup of the grape gelatin and carefully pour the rest into 6 Champagne flutes. Refrigerate the flutes until the grape gelatin is chilled and set, at least 2 hours.
In a medium saucepan, combine the heavy cream, sugar and lemon zest and bring to a simmer. Let cool, then discard the lemon zest. Pour 1/4 cup of the cream into a small skillet and sprinkle the remaining 1-1/4 teaspoons of gelatin on top. Let stand until the gelatin is softened, about 10 minutes. Warm the gelatin mixture over low heat until dissolved, then stir it into the remaining cream along with the buttermilk; let cool completely.
Carefully pour the buttermilk panna cotta into the Champagne flutes and chill until set, about 2 hours. If necessary, rewarm the remaining grape gelatin over low heat until it's just pourable; pour a thin layer over the panna cotta in each flute. Refrigerate until set. Serve the parfaits with amaretti.
MAKE AHEAD The parfaits can be refrigerated for up to 2 days.
Quick Grape Jelly
from 
Everyday with Rachel Ray
 magazine4 cups 100% grape juice
1 tbsp. powdered pectin
2 cups sugarBring juice to simmer over medium-high in large saucepan. Whisk in pectin and cook, whisking occasionally, 3 minutes. Lower heat to medium-low; add sugar, whisking until dissolved, about 5 minutes. Let cool slightly before pouring into jars and refrigerating
Tags:
concord grapes
,
grape juice