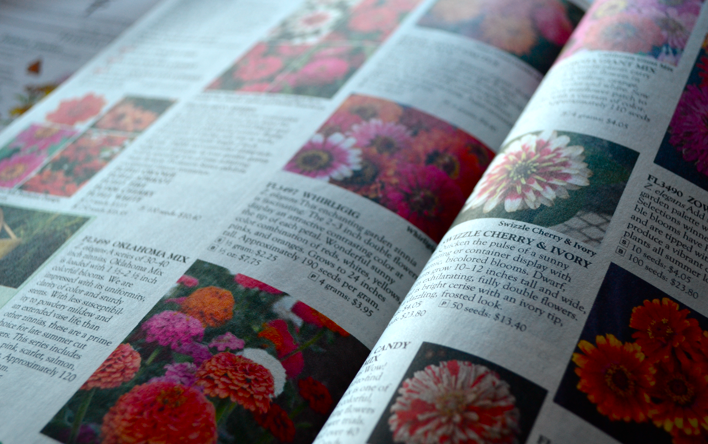 Nadia may have a bit of the January blues, but I have to confess my dissatisfaction is not as time-limited. Winter, the whole thing, every single month of it, I hate it all. I look outside at my garden and there's so much gray. So much sad, dried-out brown. The few bits of green that are left are shivering, and when I go out to get a closer look at the forlorn scene, I'm shivering too. Fortunately, I have one consolation, a consolation that started arriving in the mail a few weeks ago, just in the nick of time. Seed catalogs!
They're full of pictures of plants in full bloom, fruits and vegetables in ripe abundance. The exact opposite of the winter world I'm living in. I can't help but fall into the pages.
The names of the endless plant varieties featured in the catalogs are enough to cheer me up in and of themselves. Just try forming these words with your mouth and not feeling a tiny thrill of sensual pleasure: Royal Chantenay Carrots; Pearly Gates Morning Glories; Tigerella Tomatoes. See? Amazing.
My favorite seed catalogs so far this year, in ranked order, are:
1) The Territorial Seed Company. (All the links take you to the catalog request pages, should you want your own copy). This catalog is fat. The heft of it in my hands alone feels like a promise that spring is real and coming. It's full color, with a nice balance of fruits, vegetables, and flowers, plus fancy garden supplies like cold frames and compost thermometers that make me imagine becoming a much gadget-ier gardener. I bet you'll like it too.
2) John Scheepers Kitchen Garden Seeds.  This is a surprise favorite, because it doesn't contain any of the luscious photographs I've been raving about. It's all line drawings. But they're elegant and evocative, and the descriptions of the varieties are unbeatable. Take their write-up on Turkish Orange Eggplants: "This showy gem yields small, egg-shaped fruits that mature from green to flamboyant, shiny orange-red….Best harvested early when they are still green so that you may enjoy their mild, ambrosial flavor and sweet fragrance." How lovely is that? Flamboyant orange-red? Mild ambrosial flavors? Yes please!
3) Seeds of Change. This one is pretty, with bright photos throughout. It's also peppered with charming garden quotes (for example: "Much Virtue in Herbs, Little in Men" — Benjamin Franklin) and full page "mood" photos of things like mountain views and potted herbs. All their seeds are 100% certified organic, and the whole catalog has a tone that makes me feel virtuous, just for flipping through the pages.
4) Spring Hill Nurseries. Flowers, flowers, flowers. Sometimes a sexy description of an eggplant does the trick, but sometimes you just need to look at big photos of peonies in full bloom.
5) Gurney's Seed & Nursery C0. Seed catalogs have a long tradition of featuring cheesy photos of kids holding turnips the size of their heads or butter-smeared toddlers chowing down on cobs of corn. The other seed catalogs on my list are a little too slick and fancy to stoop to such hokeyness, but not Gurney's! And I love them for it. Sometimes when it's January and the world is cold and gray, you just want to see a smiling baby in overalls sitting on top of a giant pumpkin. No shame in that.
Did I mention that all those links take you to free catalog request pages??
Tags:
seed catalogs