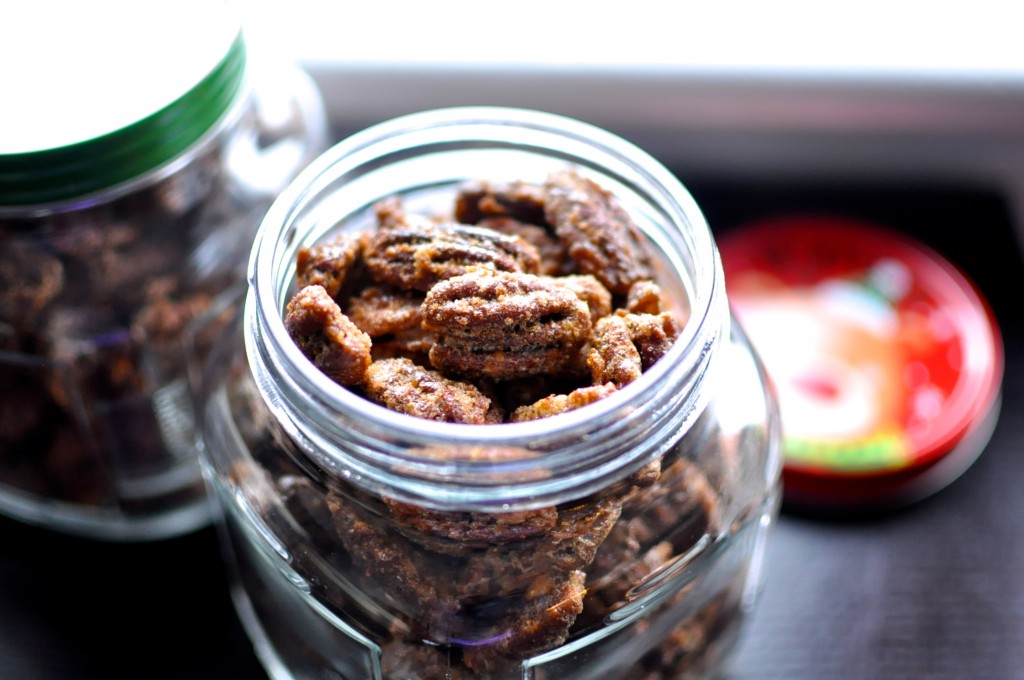 If you're in charge of the spread this holiday season, you're probably becoming increasingly nervous as the big day approaches. No doubt it's of no help whatsoever  that people like me needlessly point out that Christmas is indeed only a week away. But, here is something truly valuable, a little recipe that might win you some much-needed extra minutes for those final moments of cooking, plating or…panic.
Nuts. Yes, nuts. Everyone loves them, and there's so many to choose from. A bowl of pistachios or lightly salted peanuts or just-cracked walnuts can go a long way to appease a growling belly. But it's the festive season and unadorned nuts just aren't going to cut it with demanding guests expecting an elevated level of culinary execution. With this in mind, I have the perfect tidbit offering that will happily occupy  and satisfy the extended family, Candied Spiced Pecans. They are ridiculously easy to make, and can be whipped up days, nay weeks in advance. And they serve another purpose too. If anyone turns up unannounced and you don't have a present in hand, simply bottle up these decadent nibbles, and hey presto, instant gifting.
I've tried several different methods for these pecans over the years, and I like to think of the recipe below as my ultimate opus…the final word on candied pecans. Technically, of course, they're not really candied. Technically, candying something entails messing around with boiling sugar. I've messed around with boiling sugar before, and have the scar to prove it. Instead, I coat my pecans in whipped egg white which acts as a kind of adhesive. Combined with a sugar and spice mix the egg white becomes a gummy, sweet-savory coating that, almost by magic, turns into a crunchy, candy-like glaze after baking.
These pecans are quite simply irresistible, so make double what you think you might need!
Candied Spiced Pecans
 1 egg white
2 teaspoons vanilla extract plus 1 teaspoon water
1 teaspoon ground cumin
1/4  teaspoon ground cayenne
1/4 teaspoon ground cinnamon
1 teaspoon salt
1/2 cup white granulated sugar
1/2 cup light brown sugar
1 pound pecan halves
Preheat oven to 250 degrees F. Line one large baking sheet or 2 smaller ones with parchment paper.
In a large mixing bowl, beat together the egg white, vanilla extract and water until it resembles fluffy mallow and you can create soft peaks when you lift up the beater. In a separate large bowl, mix together spices, salt, and sugars.
Add the pecans to the beaten egg whites, and stir to coat the nuts evenly. Remove the nuts, and add them to the sugar and spice mixture. Toss until all the nuts are evenly coated. Spread the nuts out on the prepared baking sheet(s) in a single layer.
Bake for about 1 hour and 20 minutes, stirring every 20 minutes.
Remove the pecans from the oven and leave to cool for 10 minutes. Transfer the nuts to a cooling rack taking care to carefully separate them if any are stuck together. Leave to cool completely – they will become crunchier when cool. Store in an airtight container for up to 1 month.