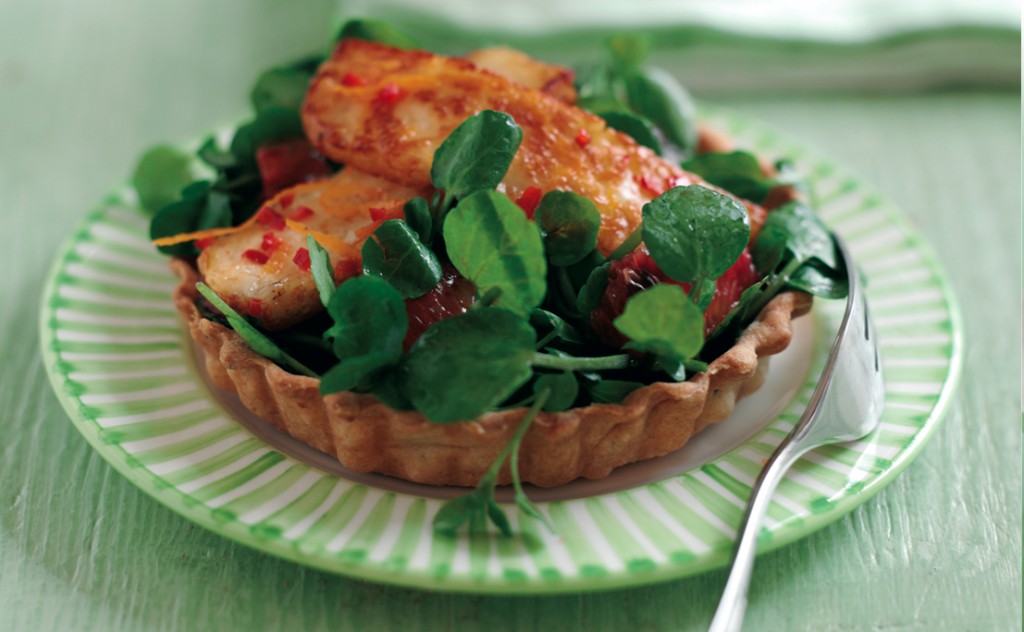 I love this time of year when markets are teaming with citrus of all kinds – they remind me of sparkling Christmas baubles. Festive associations aside,  there's nothing like snacking on supersweet Clementines or Tangerines – they're like guilt-free candy, but better because they're actually good for you. Like all citrus, these diminutive, burnished orbs are rich in antioxidants―including vitamin C, which aids in healing, boosts your immune system, and helps your body absorb iron.
But my particular favorite is the ruby-fleshed blood orange that's in season from December to March. Not too sweet, not too tart, but deeply flavorful (almost like ripe raspberries), it really lends itself to cooking with especially in savory dishes, like the halloumi, blood orange and watercress tartlet above. These tartlets are an ideal appetizer for a holiday dinner party. You can have all the different components ready before the guests arrive, then quickly assemble the tarts while everyone enjoys an aperitif. Alternatively, if the idea of tinkering with tartlet cases seems like a little too much effort, just leave out the crust part and serve as as a salad.
You'll recognize blood oranges at the market by their delicate, red-tinged orange skin. Pick fruit that are firm and feel heavy for their size. Avoid any that have mushy spots or bruises, although a bit of green or brown in the skin is fine. Kept in the fridge, blood oranges will last up to two weeks.
Halloumi, Blood Orange and Watercress Tarts
Serves 4
2 cups plain flour
1/2 stick cold butter, diced
2 tablespoons freshly grated Parmesan
6 ounces halloumi cheese, cut into thin slices
2 blood oranges
1⁄2 red chili, seeded and finely chopped
1 large garlic clove, minced
Extra virgin olive oil
2 teaspoons honey
2 handfuls watercress, picked over, washed and well dried
You will also need 4 loose- bottomed individual tartlet tins.
Make the crust. Place the flour in a large bowl with a pinch of salt and a good grinding of black pepper. Add the butter and rub in with your fingertips until the mixture resembles fine breadcrumbs. Add just enough cold water to bring the mixture together to form a soft but not sticky dough. Knead very briefly then shape into a flat disc, wrap in cling film and chill for 20 mins.
Pre-heat the oven to 400°F. Heat a frying pan and cook the haloumi in batches in a little olive oil until golden brown on both sides. Remove from the pan and place in a shallow dish. Finely grate the zest of 1 orange. In a small bowl combine the chilli, garlic, orange zest with a glug of extra virgin olive oil. Pour over the haloumi and leave to marinade while you finish the pastry.
Roll out the dough thinly on a lightly floured surface and line the tartlet tins. Prick the base with a fork, then line with foil and fill with dry rice, beans, or pie weights. Bake blind for 15–20 mins until lightly golden and cooked through. Remove the tart cases from the oven, remove the foil together with the rice, beans or weights, and leave to cool.
Meanwhile, peel and segment the zested orange. Set aside. Make a simple dressing by whisking together only the juice of the remaining orange with 3 tbsp of extra virgin olive oil, the honey and a little salt. Toss the orange pieces with the watercress, drizzle over half the dressing and mix well.
Divide the orange and watercress mixture between the four tartlet cases and divide the haloumi cheese over the top. Drizzle over a little more of the dressing if desired or hand around separately.