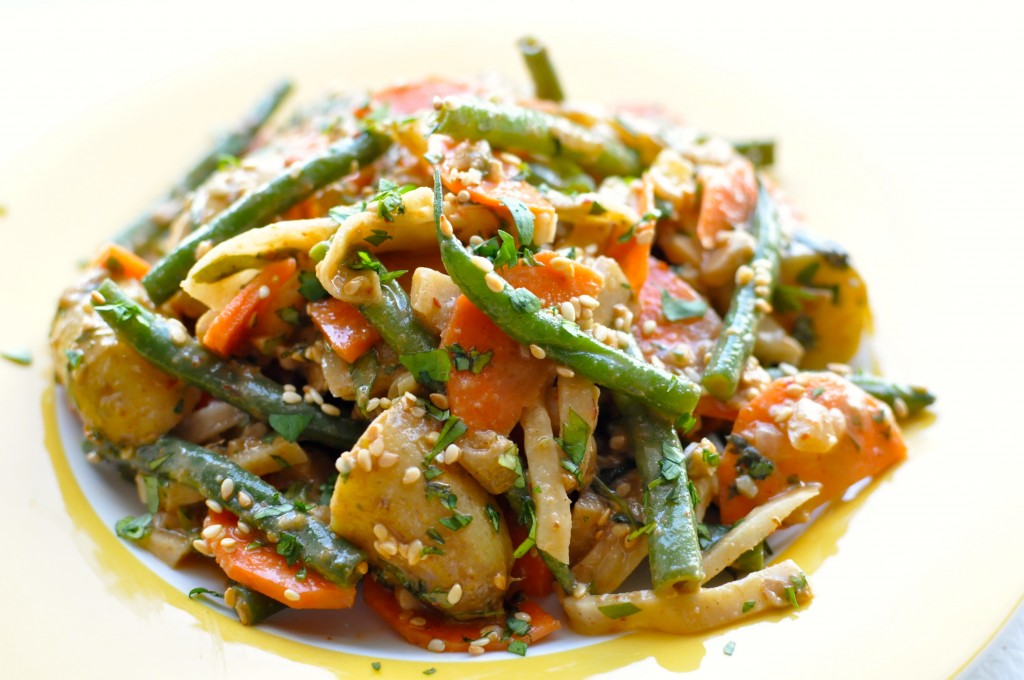 I was inspired by Charity's gorgeous homegrown bean harvest to make something scrumptious from these delightful runners. Beans are utterly ruined, in my book at least, by overcooking. If you don't pay attention, they go from crisp, verdant and bright tasting to mushy, muddy and a dreadful khaki-green in a matter of minutes. Needless to say, green bean casserole wasn't an option.
I love that squeaking sound that a perfectly crunchy, just-tender bean makes when you chew on it. So with "squeaks" a priority, an Indonesian vegetable salad, Gado Gado immediately came to mind. The dish, often sold by road-side hawkers and assembled to order in minutes, traditionally comprises chunks of boiled potato, green beans, and bean sprouts, cucumber slivers, cubes of fried tofu and wedges of hard boiled eggs all tossed in a decadent sweet-savory curried peanut dressing. With just a few tweaks and embellishments of my own, this was easy enough to re-create, or rather approximate on a Tuesday night with some help from the more exotic ingredients in my pantry.
With my head deep in the recesses of the vegetable drawer at the bottom of the fridge I began by assembling my base. I settled on green beans from the farmers' market which I trimmed, briefly blanched and refreshed under cold running before cutting into thirds, thinly sliced carrot crescents, jicama matchsticks and boiled and halved fingerling potatoes. How much, you ask? Hmmm…enough for two, and leftovers for lunch.
Then I set about preparing the sauce. First, I sautéed 1/2 a chopped onion in some vegetable oil in wok, then spooned in a dollop of Thai red curry paste. The paste sizzled and fizzed in the oil and mingled with the onion as I stirred vigorously over a high heat. After a minute or so I added a generous tablespoon of smooth peanut butter and a teaspoon of dark brown sugar to the fragrant melange in the wok, followed by 1/2 cup of coconut milk. I whisked until there were no more lumps, then brought the sauce up to the boil and simmered it gently until it thickly coated the back of a spoon. I threw in 1/3 cup of crushed lightly salted peanuts, cooked the mixture for a minute, then stirred in a handful of chopped fresh cilantro. Finally, I tasted and seasoned the dressing as needed, and removed the wok from the heat. Once it had cooled for a few minutes, I poured the dressing over the vegetables and gave the salad an energetic toss. For good measure I sprinkled 1/4 cup of lightly toasted sesame seeds and more chopped cilantro over the top. A final toss, and done!
By itself this dish makes a perfectly filling lunch dish, or light dinner. For extra heft on a cool fall evening, accompany with seared steak or broiled chicken breast, thinly sliced.