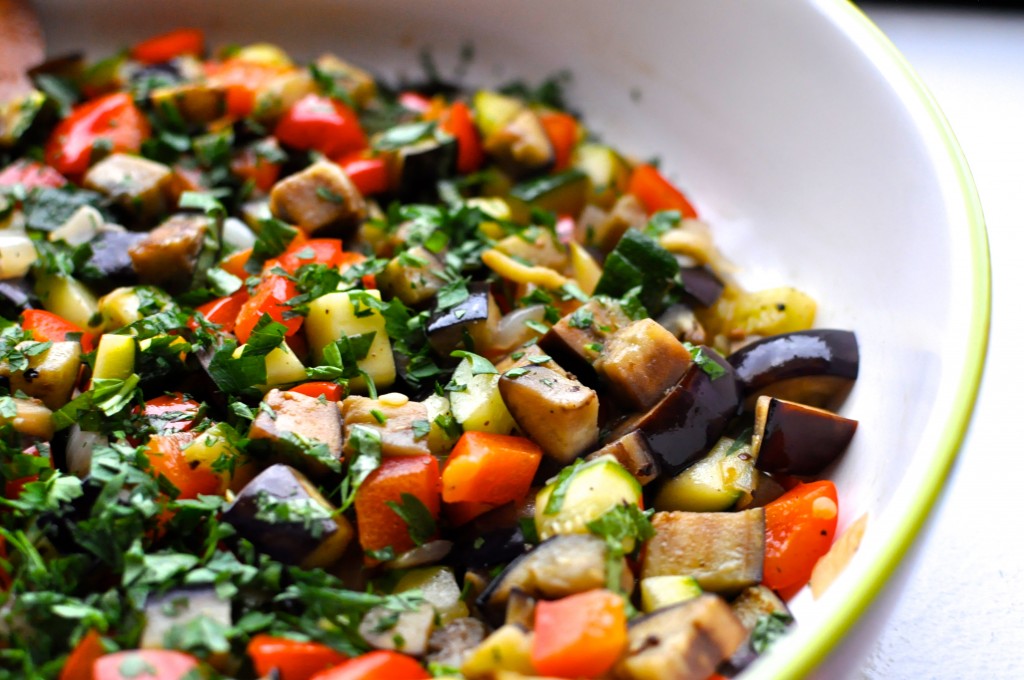 First off, I'm sorry.
I'm sorry I deserted you for so long, but when you hear of my amazing adventures over the last month – skiing in the Andes, seeking out lion prides and herds of elephant in Botswana's Okavango Delta, and salmon fishing in the heart of the Scottish highlands, I know you'll forgive me. This summer was the kind of summer you embark on if you knew the world was coming to an end, and you had to fill your days in ways that really counted. (Please don't worry, my world isn't coming to an end, I just got lucky.) Still, remarkable as my travels were, there's still something special about coming home. About seeing how your geranium babies (not so much babies now!) have grown by two feet – thank you lovely mother-in-law for stepping in and watering them, about seeping into your just-right bed with it's just-right pillows, about making that first perfect cup of tea with the perfect tea bag, in the perfect mug in your own perfectly imperfect kitchen.
One of the first dinners (full disclosure, the very first dinner was spicy instant ramen noodles, but it was near midnight and we were just off an eight hour flight) I cooked upon coming home was a garlicky herb and lemon rubbed roasted chicken that smacked of simple homey cooking. The bird had been splayed opened, with the backbone cut out ("spatchcocked" is the fancy culinary name ) and placed skin side up on a roasting tin lined with tin foil (you'll want to press down firmly on the breast bone so the chicken lies flat). A paste of crushed garlic – lots of it, chili flakes, chopped fresh parsley, finely grated lemon zest, salt and olive oil was insinuated inbetween the flesh and the skin and spread generously all over the breasts, thighs and drumsticks, with some also rubbed over the skin and on the underside of the bird. You have to get stuck in, literally, get your hands into the nethermost regions of the bird if you want the most flavor. The  assaulted chicken was then roasted near the top of the oven at 420 F for 55 minutes. I then turned the broiler on (opt for high, if you dare – but stay close to avoid, or appease, flare-ups) and let the skin crisp up and and turn a glorious burnished hue.
To accompany the chicken, I prepared an ever-popular warm summer vegetable salad. I've never known anyone not to fall in love with it upon first mouthful, then fall in love some more once they know how easy it is to prepare. And being served "warm" or even at "room temperature", it's great to keep in your dinner party arsenal. But I love it most because it captures all the tastes of summer. Gently sauteed eggplant, zucchini, voluptuous bell peppers, garlic and onion tossed with red wine vinegar, a pinch of sugar, and plenty of parsley and basil.
Today there was a distinctive coolness in the air, albeit amidst the sunny rays. But it was surely present forcing me to throw on a sweater when I crossed to the shaded side of the sidewalk, and it no doubt portends the near-arrival of fall. So before you file away this recipe amongst your warm weather staples, collect the last of summer's boon and give it go.
4 Tbs. extra-virgin olive oil
1 medium eggplant, cut into ½ inch dice
Salt
1 medium red onion, chopped
1 medium large red bell pepper, cut into ½ inch dice
2 medium zucchini, cut into ½ inch dice
½ tsp. sugar
1½ Tbs. red wine vinegar
3 Tbs. chopped fresh parsley leaves
3 Tbs. thinly shredded fresh basil leaves
Freshly cracked black pepper 
Heat 2 tablespoons of the olive oil over medium high heat in large skillet. When hot, add the eggplant and a generous pinch of salt and stir well. Cook, stirring occasionally, about 5 to 7 minutes, until tender. Transfer to a large bowl and set aside. Add the remaining olive oil to the skillet and when hot add the onion, stir and cook for 2 to 3 minutes, until softened. Add the garlic, peppers and zucchini to the pan with a scant teaspoon of salt. Cook, stirring every now and then, until the zucchini and peppers are tender, about 5 to 7 minutes. Transfer the vegetable mixture to the bowl with the eggplant. Add the red wine vinegar, sugar and the parsley and basil to the bowl, and gently stir to combine. Season with plenty of freshly cracked black pepper.