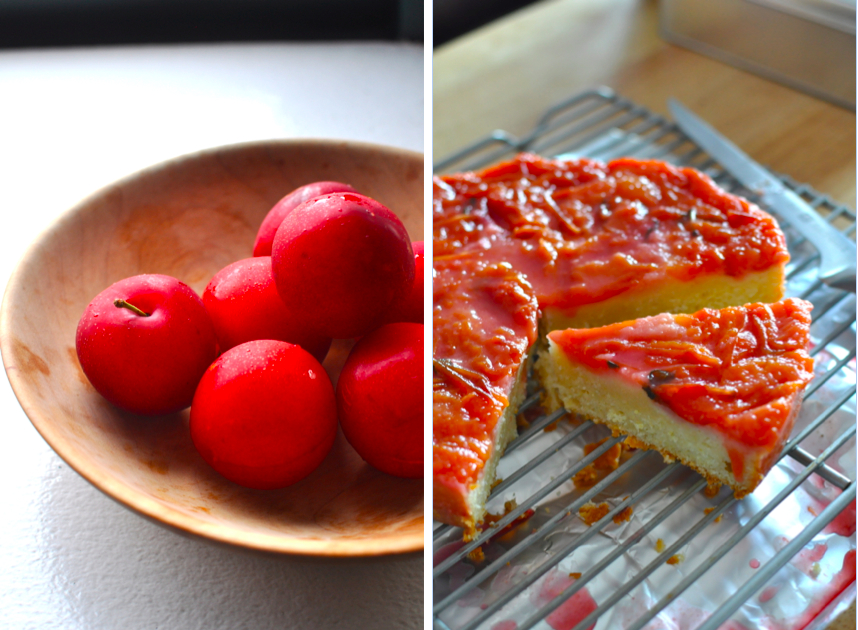 I treated myself today to an outing to Dean & Deluca in Soho. Great for my culinary id, terrible for my wallet. There was so much that I wanted to grab and run away with; perfectly formed, tiny Asian eggplant, tender okra, stripy heirloom zucchini, fresh as can be 8-Ball Squash. But it was the fruit selection which perfumed the store with its voluptuous, heady scent that really had me having to call upon those inner stores of self-restraint I reserve for precisely such moments. But I'm not entirely apathetic towards my more needy side, so I allowed myself one thing, well, at least one type of thing. After much internal debate, I opted for the local New York red sugar plums. They were a seductive pinky red, perfectly round, and perfectly little. How could I say no?
As far as I'm concerned, aside from eating them out of hand, plums are made for baking into upside down cakes. I have something of a soft spot for the upside down confection as it was the very first cake I was taught to make at my Home Economics class when I was a young teen at school. But that cake was made with rounds of canned pineapple, each wheel filled with a bright red Maraschino cherry half. I quickly took it upon myself to graduate up to fresh plums whenever I made the cake at home. With their tart skins that release pretty pink syrupy juices and sweet juicy flesh they presented the perfect foil to tender-crumbed cake.
When buying plums for baking, look for semi-firm fruit just a little give when you gently squeeze them. You want them ripe but definitely not overly ripe as they'll simply disintegrate when you try to cook with them.
 Plum, Basil and Cornmeal Upside Down Cake
Adapted from Real Simple's Plum Upside Down Cake
I played with this simple but delicious recipe from Real Simple magazine making it that touch more special with the addition of cornmeal for textural contrast, cinnamon for spicy warmth and basil syrup for that extra hit of summer, and a dollop of sophistication!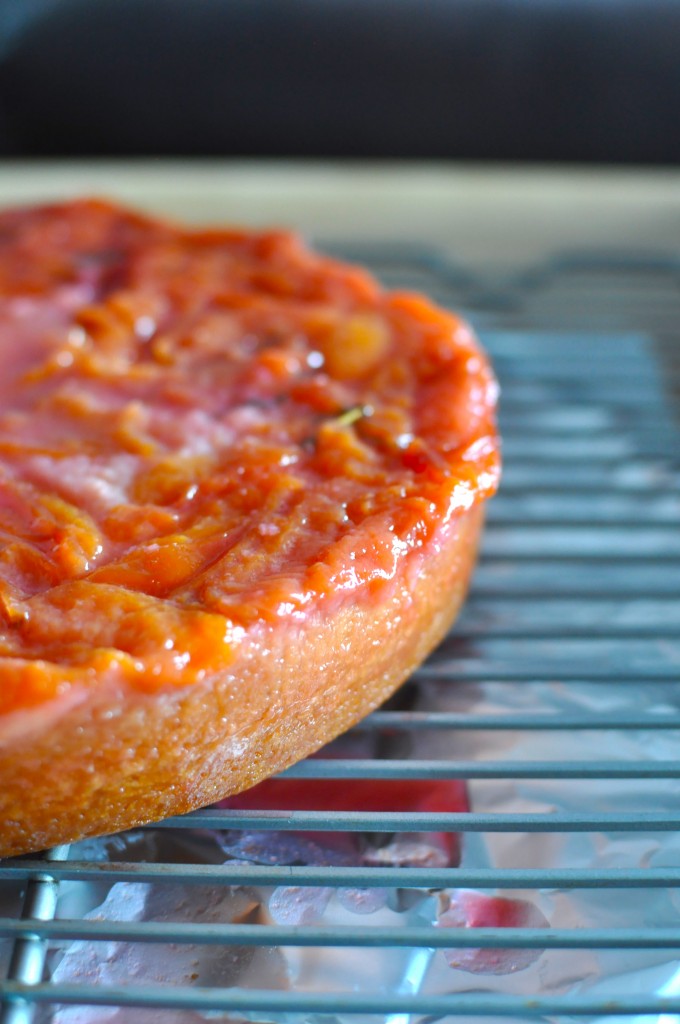 1 stick plus 1 tablespoon unsalted butter, plus extra for the pan, at room temperature
8 to 10  small ripe red sugar plums, about 1 pound in total, stones removed and each cut into 6 wedges
1/4  cup  plus 2/3 cup granulated sugar
Handful large basil leaves
3/4  cup  all-purpose flour
1/4 cup yellow cornmeal
1/4 teaspoon ground cinnamon
3/4  teaspoon  baking powder
1/4  teaspoon baking soda
1/4  teaspoon salt
1  large egg, lightly beaten
2/3  cup  Greek yogurt
2 Tablespoons milk
1  teaspoon pure vanilla extract
Preheat oven to 350° F. Butter  and flour an 8-inch cake pan, lining the bottom with parchment paper.
Melt the 1 tablespoon of butter in a large skillet over medium-high heat. Add the plums, 1/4 cup of the sugar and the basil leaves and cook, tossing, until the sugar dissolves and the juices from the plums become syrupy, about 2 minutes. Remove the plums from the skillet using a slotted spoon and transfer to the prepared cake pan. Arrange the plum wedges so they are in a single layer. Return the pan to the stove and let the syrup bubble away until reduced to about 3 tablespoons.
In a small bowl, whisk together the flour, cornmeal, cinnamon, baking powder, baking soda, and salt. With an electric mixer, beat the remaining 1/2 cup of the butter and 2/3 cup of the sugar until fluffy. Beat in the egg, greek yogurt, milk and vanilla. Gradually add the flour mixture, mixing just until incorporated. Spoon the batter over the plums in an even layer and bake until a toothpick inserted in the center comes out clean, 50 to 55 minutes.
Let cool in the pan for about 30 to 40 minutes. Place a large plate over the cake pan and invert the cake onto the plate, or turn out onto a wire rack with a large piece of foil placed underneath to catch any dripping syrup. Eat warm or at room temperature.
Tags:
cake
,
plums