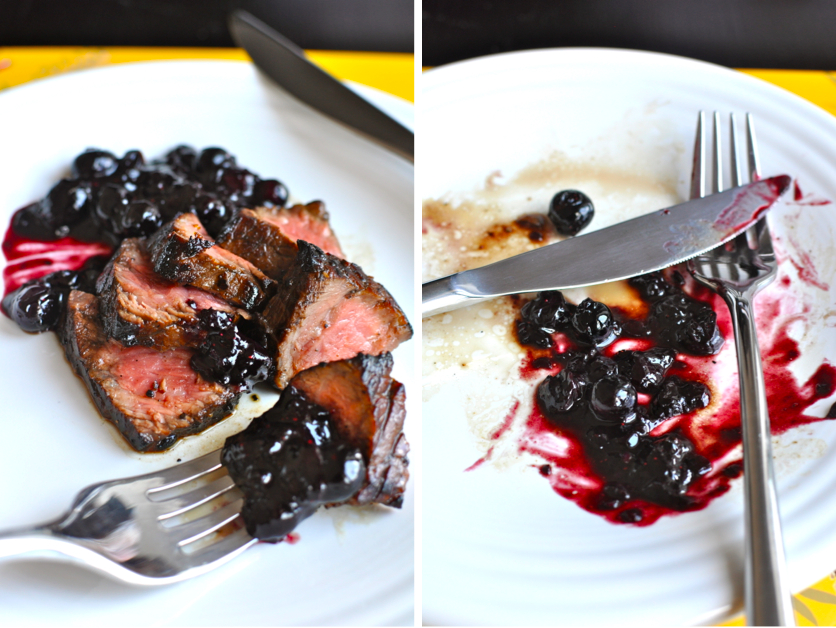 You're probably a little skeptical about the title of this post. What, you wonder, are blueberries – let alone blueberry jam, doing anywhere near steak. Let me explain. I've made my fair share of blueberry pies, cakes and tarts. In fact, you may have caught my diatribe on Forbes.com championing blueberry cobbler over apple pie as the ultimate 4th July sweet. However, as delicious as this sweet and tangy purple orb is when encased in buttery pastry or folded into tender-crumbed cake, there's no reason why it should be relegated to the realm of the dessert.
When cooked down into a viscous, glossy sauce and paired with meats, especially full-flavored steaks or even lamb, the blueberry rises to the challenge, and let it be said, puts on a formidable show. Its sweetness is tempered by heat and slow cooking as the sugars caramelize. In contrast it's rich, winey flavors and piquant, bright fruitiness bloom and take center stage as admirable counterparts to the more savory elements on the plate.
With more delicate meats like chicken or even fish, a cooked and reduced blueberry sauce would be too much. Instead, try a fresh blueberry salsa like this Asian-inspired one from Epicurious, or this one from Southern Living that's more reminiscent of a typical Mexican salsa.
The recipe below (which incidentally I made and polished off for lunch today!) for steak marinaded in a balsamic-infused potion calls for a cut that I've only recently discovered, but am totally enamored with. The Bohemian steak as it is called by the upscale New York grocer, Citarella, also goes by the names sirloin flap and bavette steak (which is actually its French name). It's very similar to flank or skirt steak in texture – in fact, I first bought it when the flank steak I was eyeing up was far too big for just a meal for two, but I think a little more tender and with a more complex flavor. It's long and thin with a depth of about 2-inches which means that with every bite you're rewarded with a good balance of well-seared crust and juicy, tender medium/rare meat.  But its best virtue is, I think, it's ability to soak up a marinade in almost no time at all. As for what part of the steer the Bohemian or sirloin flap is from, well it's actually the tail-end portion of a porterhouse or T-bone steak.
Balsamic Steak with Blueberry Port BBQ Sauce
Serves 4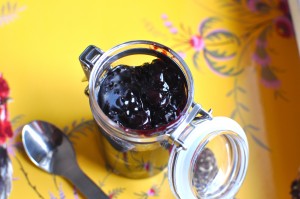 For the Marinade
 2 Tablespoons Balsamic vinegar
1 Tablespoon Worcestershire sauce
2 teaspoons honey
3/4 teaspoon Kosher salt
1/2 teaspoon coarsely ground black peppe
2 cloves garlic, mashed to a paste
3 x 6-ounce pieces of Bohemian, sirloin flap,
or bavette steak – they're just different names for the same cut (see note)
2 Tablespoons olive oil
For the Blueberry Port Jam
2 teaspoons vegetable oil
1/2 small onion, finely minced
1 large clove garlic, finely chopped
1/2 cup port
1- 1/4 cup fresh blueberries
2 tablespoons cider vinegar
1 Tablespoon Balsamic vinegar
2-1/2 Tablepoons honey (little less if you have very sweet blueberries)
2 teaspoons molasses
1/2 teaspoon Worcestershire sauce
1 rounded teaspoon tomato paste
1/4 teaspoon hot sauce
Salt
1. In a small bowl, combine the marinade ingredients until well blended. Place the steaks in a large Ziploc bag. Pour the marinade over the top and massage into the meat. Squeeze out as much of the air as possible and close up the bag. Leave at room temperature for 20 to 30 minutes.
2. Meanwhile, make the blueberry jam. Heat the oil in a medium saucepan over medium  heat. Add  the onion and cook, stirring, until softened and slightly golden, about 4 to 6 minutes. Add garlic and  cook, stirring, for another 30 seconds. Add the port, increase the heat to high and bring the liquid to the boil. Cook until the liquid has reduced to about 3 tablespoons, about 5 to 8 minutes. Stir in 1 cup of  the blueberries, the vinegars, honey, molasses, Worcestershire sauce, tomato paste and hot sauce. Bring the mixture back to the boil, then reduce the heat  to medium low and and simmer, stirring and pressing the berries with the back of a wooden spoon so they collapse, until the mixture is thick and glossy, about 15 minutes. Stir in the remaining 1/4 cup of blueberries, then immediately remove the pan from the heat. Taste, and season with salt as desired. Set aside.
3. Cook the steaks. Remove the steaks from the Ziploc bag, pat dry using kitchen paper. Heat the olive oil in a large heavy-based skillet until hot, add the steaks (you might need to cook in 2 batches to avoid overcrowding the pan). Cook for 2 to 3 minutes on one side until well seared, then flip, lower the heat, and cook for a further 3 to 5 minutes. For medium rare the steaks should read 135F on a meat thermometer inserted into the thickest part of the steak. Alternatively, cook on a grill. Remove the steaks from the pan and transfer to a wooden board. Leave to rest for 5 to 10 minutes, then slice against the grain. Serve the sliced steak with the jam on the side.
Note: If you can't come by Bohemian or sirloin flap steak, as an alternative you could use tenderloin, ribeye, sirloin, or any other type steak that you'd like. Just remember that every cut cooks differently, and it's best to use a meat thermometer for perfectly cooked steaks. For medium rare, pull the meat  off the heat when the thickest part of the steak reads 135F on the thermometer, then leave to rest for 5 to 10 minutes.
Tags:
blueberries
,
steak