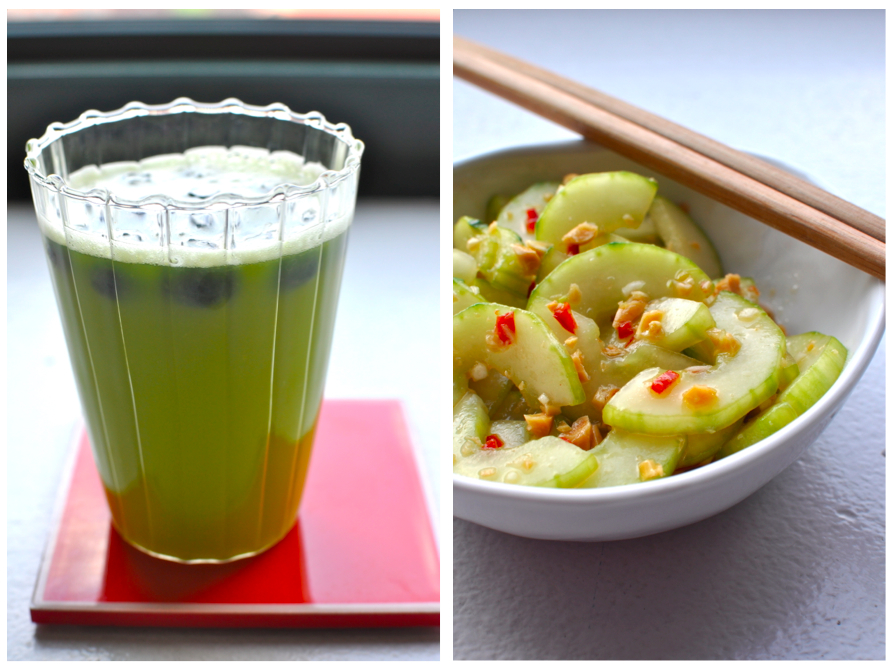 This week Charity is going to let you into a wonderful secret. Ok, spoiler alert, it involves the ability to grow cucumbers on your terrace, balcony, window box even (you're right – I have no idea whether you can actually grow them in a window box, but Charity will shortly reveal all!). How thrilling is that? Plucked straight off their vines, imagine this, you could even eat your homegrown cukes right there on your terrace, out of hand.
But for those of you who wish to be a tad more adventurous, below are two no-cook recipes in which to enjoy cucumbers this summer:  Fresh Cucumber and Orange Juice with Blueberry Ice Cubes and a Hot, Sweet and Sour Cucumber Salad. I made both of them one day last week when the temperature in New York reached nearly 90 F degrees. With cucumbers being 95% water, they were just what I needed to stave off heat stroke! Liquid refreshment aside, this relative of the squash is amply beneficial for our health. It's a good source of potassium – a formidable electrolyte, it contains a handful of anti-oxidants including beta-carotene, alpha-carotene, vitamin C, vitamin A and lutein, and it's said to eliminate toxic compounds from the gut.
Something funky has clearly happened in cucumber cultivation over the last decade as I recall a time in my youth where cucumbers were known for being universally bitter. But I suspect this unpalatable characteristic has since been mostly bred out of the vegetable (ok – fruit!). Still, if you ever encounter an acrid cuke, here's a neat trick to draw out those bitter compounds: slice a 1/2-inch piece off the end of the cucumber then rub the cut ends together using a circular motion for about a minute. As you rub, you'll notice a white substance being drawn out of the flesh. This contains cucurbitacin B and cucurbitacin C, chemical compounds responsible for the bitterness which are present in and just under the skin of the cucumber. Now simply wash the cucumber, then peel and slice.
There are a number of different cucumber varieties, with varying thickness of skin. This is to say that it's really up to you whether you peel off the skin or not. Sometimes I like to leave strips of skin on so that when I slice my cucumbers they have alternate blocks of color on their edges.With the thinker-skinned varieties such as the American slicing cucumbers, it's best to rid them of their leathery jackets altogether.
The same goes for the seeds. They do contain a lot of water, so if you don't want an overly liquid dish – say if you're making a cucumber and yogurt raita dip, you should scoop them out using a teaspoon. The seeds can also be a touch on the bitter side – another reason to toss them. But, if it seems like an extra step you'd like to avoid amidst the sweltering summer heat, go ahead, eat your cukes, skin, seeds and all.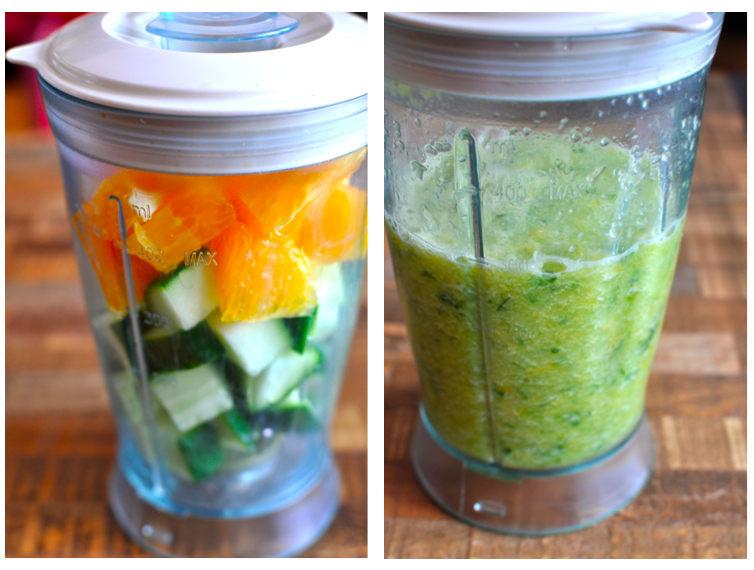 Fresh Cucumber and Orange Juice with Blueberry Ice Cubes
Serves 4
1/3 cup fresh blueberries
2 large English cucumbers, chopped into small chunks, skin, seeds and all
1 navel orange, peeled, segmented and roughly chopped (discard the pith and seeds)
Juice of 1/2 lime
Simple syrup to taste, optional, (made by combining 2 parts sugar to 1 part water in a small saucepan; bring to the boil, then simmer gently for 30 secs. Remove from the heat and cool completely before using)
Make the blueberry ice cubes: Put the blueberries in a small bowl or Ziploc bag and freeze for at least 30 minutes or until frozen.
Make the juice: Combine the cucumber and orange chunks in a food processor or blender and blend until smooth, 1 to 2 minutes. Line a sieve with a double layer of cheesecloth and place the sieve over a bowl. Pour the cucumber and orange puree into the lined sieve. Pull the corners of the cheesecloth up and squeeze all the juice out of the puree into the bowl  keeping the pulp in the sieve.  Or, if you don't have cheesecloth, just use a fine mesh sieve, and push as much of the juice out using the back of a spoon. Stir the lime juice and simple syrup, if using, into the cucumber and orange juice to taste. Pour into a small jug and chill. When ready to serve, pour into glasses and pop some frozen blueberries into each glass.
Hot, Sweet and Sour Cucumber Salad
Serves 4 as a nibble
1 large English cucumber, peeled and halved
2 generous pinches of salt
1/2 teaspoon sugar
3 Tablespoons rice vinegar
1/2 teaspoon fish sauce, optional
1 teaspoon soy sauce, plus more to taste
2 teaspoons honey
1 teaspoon sesame oil
1/2 red jalapeño chile, deseeded and finely minced
1 small garlic clove, minced
3 Tablespoons roughly chopped roasted peanuts
Prepare the cucumber: use a small teaspoon to scoop out all the seeds from the cucumber halves, discarding the seeds. Slice the cucumber into 1/4-inch crescents and place in a medium bowl. Add the salt and sugar to the bowl, stir and leave to sit at room temperature for 30 minutes.
In a small bowl make the dressing by combining comb the rice vinegar, fish sauce, soy sauce, sesame oil, chile, and garlic and mix well.
Drain all the excess liquid that has seeped out of the cucumber slices and pat as dry as possible using paper towels. Pour over the dressing and mix, then stir in the chopped peanuts. Taste, and add more soy if necessary. Serve immediately.
Tags:
cucumbers