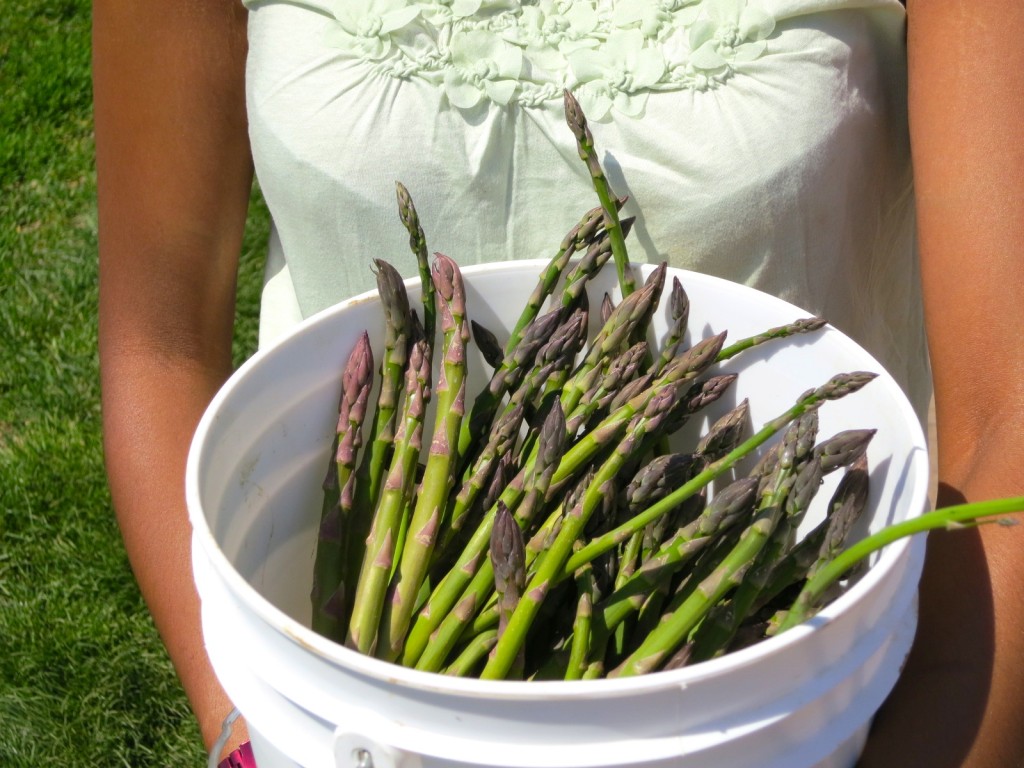 If you live within reasonable driving distance of Princeton, NJ, and were just contemplating how you might spend the next two glorious days away from the office, well, I have quite the proposition for you. Wake up early, hoist on your gardening shoes and a pair of sturdy shorts, hop in the car, and hot foot it down to Terhune Orchards for a spritely morning of asparagus picking.
I know what you're thinking, the farmers' market five minutes away has more locally-grown, fat, perky asparagus than you could eat for a whole year let alone asparagus season. But, the trip to Terhune isn't just about the spears themselves, although they're wondrous and divine to eat, it's about the experience. The experience of squatting over a field and harvesting your own dinner, of feeling really pleased with yourself when you've bagged pounds of quality greens in the searing heat, of returning home to wash, peel and prep, then finally of sitting down to an unimaginably delicious and nourishing feast that was still cloistered in earth only hours before.
Let me put this to you. Have you ever seen a field of asparagus? No? Trust me that's good enough reason to hoist on the gardening shoes. Up until a couple of weeks ago, I imagined this springtime perennial to grow in obedient lines, inching straight to the sun in close, densely-packed tracks so that from a distance it appears as a lush, green carpet tinged with purple. Then my husband and I decided  to go pick some asparagus on a whim after reading about Terhune's pick-you-own scheme in the New York Times; I realized just how wrong I was.
It turns out asparagus are quite a quirky bunch. They grow sporadically; some straight up, some angling towards the right, some towards the left. The grow fat and squat; they grow long and thin; they grow strong and robust, and they grow gangly and floppy. And most surprising of all; no green carpet. There are just occasional spears poking out from the dirt amidst a landscape that's strangely stark. Now I don't mean to put you off with that description, if anything I mean to stir your curiosity. And seeing the asparagus in situ, as it were, made me appreciate all the more the efforts farmers put into sorting their motley harvest into tame bunches all of the same height and all of the same width.
I just checked with the lovely folk at Tehrune Orchards and it seems the spears are still coming up strong, so there'll be plenty up for grabs this weekend if you're up for a little manual labor and a tasty supper. Don't panic if you plan to go on Sunday that all those over-eager types will have culled the spears on Saturday, I learnt a factoid out in Terhune that will just blow your socks off. Apparently an asparagus can grown from a tiny shoot just poking its head out of the ground to a full-grown 8-inch monster OVERNIGHT! I know, a-m-az-ing.
Without further ado, here's a gallery chronicling our adventures at Terhune.
The ABC's of Picking Your Own
A word of warning before you head off, you won't get mucky, but you might get a little …soiled. This is because to harvest you should break off the spears at the point that they emerge from the ground. This can get a little messy around the fingers and hands as there's a fair amount of dirt around, and if it's been raining, mud. Once you start brushing away stray wisps of hair and swatting off bugs, you'll quickly find you're tastefully decorated in patches of brown.
Once you arrive at Terhune the first stop is to collect your buckets. Then, simply head out to the fields – there are lots of helpful signs to point you in the right direction, and follow the simple picking instructions displayed on a big placard at the top the field. In short: break off as close to the soil line as possible, don't trample on new shoots, and stick to one lane at a time.
Now we come to the important part. How to choose which asparagus you're going to pick. Let's be clear, you want to be discerning, to a degree. Long, willowy, pencil-thin spears are strictly not to enter the bucket. These are overgrown and on the brink of turning into fern. My husband, with his infinite wisdom and next-to-no knowledge of asparagus brought one of these home for dinner. It didn't make it in the pan, obviously, but I didn't throw it out, and the next morning the spear had indeed already begun to sprout into feathery fern. Go for asparagus that are no more than about ten to eleven inches tall and no less than six to seven inches. As for girth, now we're getting into murky territory.
Both thin and fat asparagus have their merits, it just depends on your tastes and inclination to spend a little more or a little less time preparing your greens. The fatter spears should be peeled as the skin can be tough, although it's not essential if you don't mind some chew. Once peeled, their interiors are juicy and flavorful and as tender as can be. The thin stalks don't need to be peeled, giving them a big plus for convenience. Also in their favor is the fact that they grill up evenly and quickly without overcooking, and with crispy tips saturated with a complex, seaweed- like flavor. However, some say they're actually not quite as tender as the peeled, fat spears because there's less volume of soft tissue per stalk. So, make up your own mind; go for just one, or a bit of both, and anything in the middle.
Once you've plucked to your heart's desire, all that's left is to walk your treasure back to the Farm Store where they'll weigh it and bag it up for you. Incidentally, you pay more or less what you would at the farmers' market, about $3.25 per pound.  Once you get home, give your spears a good rinse then separate them into two or three piles according to their girth – we had a skinny, just right, and downright fat pile. Then, bundle up each pile with your hands and keep in vases filled with an inch or so of water. If it's not too hot, and you'll use up the asparagus in a couple of days, you won't need to fridge them, just make sure they have enough water to drink or they'll start to shrivel and get floppy.
Still on the fence about making the trip – did I tell you there's a field bursting with plump, ruby-red strawberries ripe for the picking too?
Terhune Orchards – Asparagus Pickin' Starts at 9am
330 Cold Soil Road  Princeton, NJ 08540
(609) 924-2310
Tags:
asparagus
,
pick-your-own
,
spring