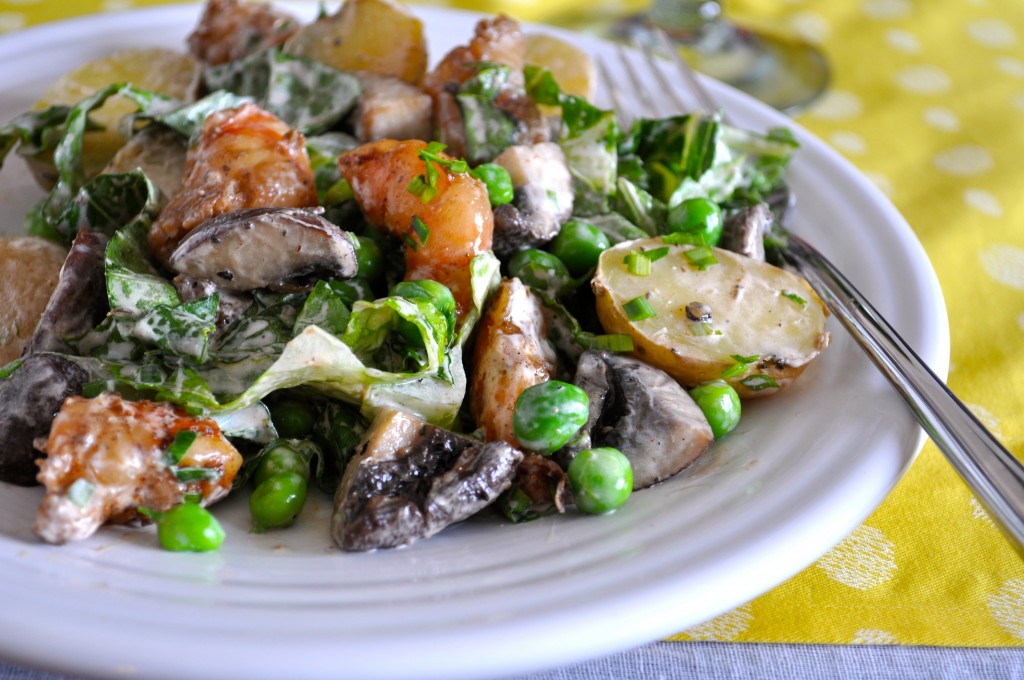 As it turns out, shelling peas is a pretty good distraction from attending to otherwise pressing tasks, like researching that article that needed to be completed …oops…this morning. Ahh, but it's Friday and procrastination is all but forgiven on the eve of a long holiday weekend. And I can think of plenty of less commendable modes of time-wasting. Actually, let me recant that; it isn't time-wasting at all, but rather a worthwhile tribute to spring and her abundant delicious-tasting gifts. With these plump pods bursting with readiness to share their rotund green pearls with us right at this very moment, we should all be shelling peas Monday through Friday.
And so the short of it is, yes. That's my lunch up there.  I have become one of those people who take photos of their lunch, and posts them for the world to see.
Oh dear.
But I'm telling you what I had for lunch because I had intended to share with you the do's and don't's of pea shelling and pea procuring, then I realized I already told you that last year, and so I was a little stuck as to what else I could usefully share with you about peas. I know, telling you what I had for lunch isn't useful at all. I failed. But I'm hoping that what might be useful is the recipe for the tasty  Shrimp and Pea Salad with Cremini Mushrooms, Baby Potatoes and Yogurt Adobo Dressing  pictured above. And an artful collage of what my peas looked like before, during and after they were podded.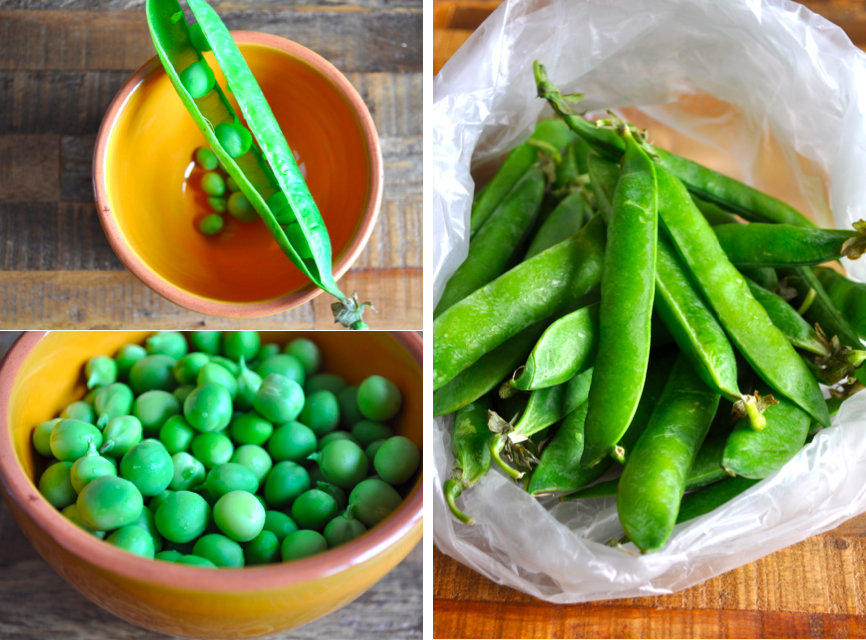 Spring Shrimp and Pea Salad with Cremini Mushrooms, Baby Potatoes and Yogurt Adobo Dressing
In case you missed it earlier, click here for all the information you need on buying, podding and prepping fresh English peas.
Adobo sauce is one of the wonders of the grocery store shelves. It lives in a can nestling smoky, ox-blood red chipotles chiles (which are in fact smoked jalapeño chiles), and you can find it in the Mexican section of most decent stores. Once you open the can, store the remaining chiles and sauce in a Tupperware in the fridge where they'll last for months. I tell you this because there's always far more chiles and sauce than you can possibly use for one recipe. The chiles themselves add a wonderful fiery kick to dishes, but it's the sauce with its rich, complex flavors and bright tang that I really love to throw into dressings, stews and sauces. Just be judicious when using, it has some bite.
Serves 2 as a main and 4 as an appetizer
10 medium cremini mushrooms, stems removed and discarded, and caps quartered
2 tablespoons olive oil
Salt and freshly ground black pepper
6 ounces baby potatoes (about 8 to 10)
3 ounces shelled English peas
1/4 teaspoon sugar
1/2 pound large shrimp, shelled and deveined and cut into bite-sized pieces
1/4 teaspoon ground cumin
1/8 teaspoon ground coriander
1/8 teaspoon paprika
6 trimmed large Romaine lettuce leaves, cut into 1/4-inch ribbons
For the dressing
1-1/2 tablespoons Greek yogurt
1/2 tablespoon mayonnaise
1 teaspoon white wine vinegar or Champagne vinegar
1/4 teaspoon adobo sauce from a can of chipotle chiles in adobo sauce, or a few of drops of hot sauce
2 teaspoon finely chopped parsley, cilantro or chives
Turn on the broiler to high and position a shelf about 5 inches from the top. Bring a medium saucepan quarter filled with lightly salted water to the boil over high heat.
Place the mushrooms in a roasting tin, drizzle over 1 tablespoon of the olive oil and season liberally with salt and pepper. Broil for 8 to 10 minutes until cooked through and crisped slightly at the edges.
Meanwhile, add the potatoes to the boiling water and cook for about 10 to 12 minutes until tender all the way through (test by piercing with a fork). When cooked, remove the potatoes from the water with a slotted spoon and keep the pan on the heat. Rinse the potatoes under cold running water for 30 seconds. Leave to cool until warm enough to handle, then slice in half. Set aside.
Add the peas to the boiling water still on the stove, with the sugar. Cook for about 2 to 3 minutes until just tender. Drain and run under cold water for 30 seconds.  Set aside.
Make the dressing: Combine all the ingredients in a small bowl, whisk to combine. Add salt and pepper to taste, then set aside.
In a medium bowl,  season the shrimp with the cumin, coriander and paprika and salt and pepper. Heat the remaining olive oil in a large skillet over medium high heat. Sauté the shrimp until golden brown and just cooked through, about 4 to 5 minutes. Remove from the heat.
In a large bowl, add the Romaine lettuce, potatoes, peas and mushrooms and combine gently. Add half the dressing and mix well. Add the shrimp with the remaining dressing, toss and serve immediately.
Tags:
baby potatoes
,
mushrooms
,
peas
,
salad
,
shrimp