If there was a book that I could imagine that would teach me everything I needed to know to  grow the edibles I had my heart set on from edamame and melons to garlic, tomatillos and tatsoi, this would be it. It would not bombard me with every known species of brassica or leafy green, nor would it be an overwhelming overload of information on the destructive capabilities of aphids or mites. Of course, there would be no imagining, just reaching to the bookshelf. In Grow Cook Eat (Sasquatch Books, 2012), Willi Galloway presents a comprehensive, elegant manual to vegetable gardening that delivers just the right amount of guidance and hand-holding as you nurture your first strawberries or coax jalapeño peppers from flowers to fruit. And the beautiful, evocative photos of luscious, bountiful harvests are all the encouragement you need.
The way the book is organized is half the joy of it. At the beginning is a dense yet still readable chapter that takes you through gardening fundamentals and basics – and allays any doubts you might have that you aren't equipped with the know-how to begin your gardening exploits. It is then simply laid out  in sections that each addresses a particular type or genre of vegetable. The book eases you into the craft of growing with novice-friendly Herbs, then moves on to Greens, Legumes, Squash, Cabbage, Warm Season Vegetables and ends with the best reward of all, homegrown Fruit.  Each section is written in exactly the same easy-to-follow format that moves seamlessly from Planting to Growing to Harvesting to Storing to Cooking Ideas and to the pick of the best Varieties. The descriptions are alluring and enticing, and instructions authoritative but always friendly. The obvious effortlessness and ease with which Galloway channels her vast amount of knowledge into lay terms and accessible language  are testaments to her years of experience in the field as instructor and expert gardener. She is an award-winning radio commentator, writer, and former editor at Organic Gardening magazine.
Unfortunately, armed with just my sunny windowsill right now, it will be some time before I'm building good soil, constructing freestanding trellis or seeking out U-shaped bamboo to make pretty supports for my peppers and eggplants. But, this is a book for the future, for when I have that ample back yard or glorious rooftop garden with greenhouses and raised beds aplenty.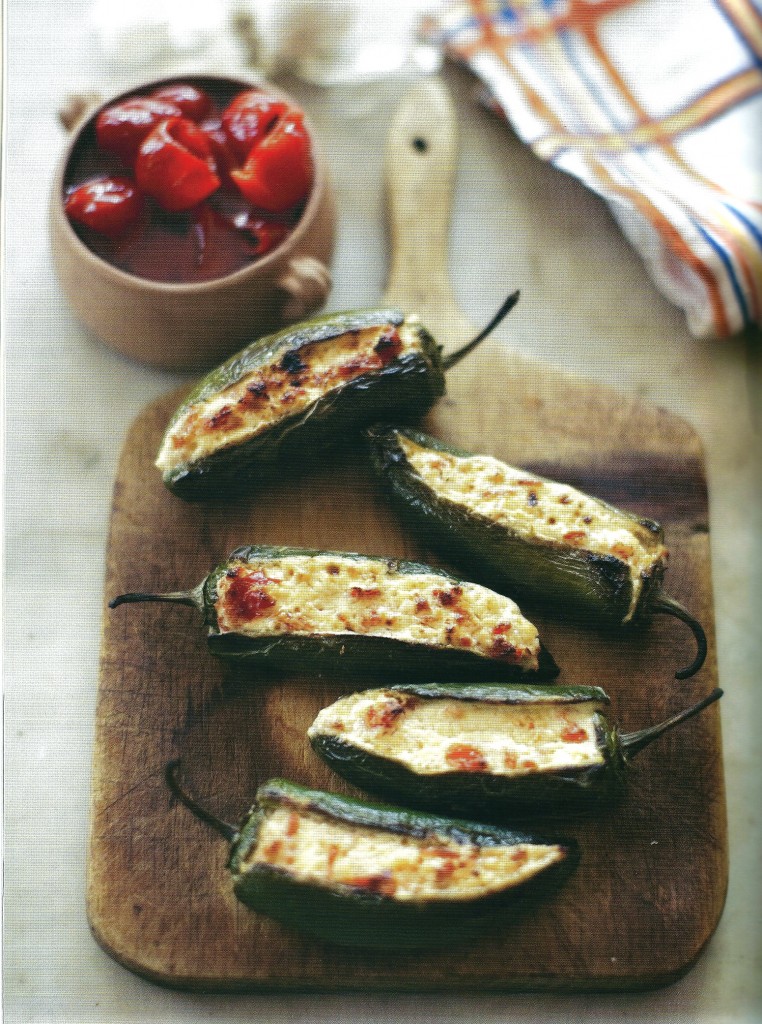 The one thing I haven't mentioned yet is the small collection of recipes scattered throughout Grow Cook Eat. Each vegetable covered is accompanied with a delectable dish and a stunning photograph of the culinary potential of your green thumbed efforts. They aren't the most imaginative recipes you'll likely come across, but they will make the most of your harvest. There's no doubt as to who's the star of the Arugula Salad with Blue Cheese, Dates and Hot bacon Dressing (NO- It's not the bacon!), or the Lemony Broccoli Rabe. As with all the book reviews in SS, if there are recipes to be assessed, I'll happily get into the kitchen. Earlier this evening, I was seduced by the Roasted Jalapeños Stuffed with Goat Cheese, and any plans to remain true to the season went swiftly out the window. The recipe was easy enough, in fact it only took me 20 minutes from start to finish, and called for just 4 ingredients; jalapeños, goat cheese, garlic, and Pappadews or pickled cherry peppers. I threw in some shredded Monterey Jack and cheddar – just because, you know, they were in the fridge and I'm of the mind that the more cheese, the better. The end result was very tasty, but my mouth stinged for about 2 hours afterwards from the heat of the pickled cherry peppers – even though I had seeded them, and only used half the amount called for in the recipe. I can't help but wonder whether the vegetal realm is trying to teach me a lesson for cooking out of season. I probably should have just stuck with the Tartines with Gruyere and Radish Greens. They did look delicious, and I'll probably still be able to feel my tongue right now.
Roasted Jalapeños Stuffed with Goat Cheese
from Grow Cook Eat by Willi Galloway
Serves 6
6 large jalapeños
8 ounces soft goat cheese, at room temperature
2 plump garlic cloves
10 Peppadews or seeded pickled cherry peppers, minced
3 tablespoons brine from Peppadews or seeded pickled cherry peppers
Preheat the broiler and place an oven rack in the top position. Slit the jalapeños from stem end to tip and halfway around the base of the stem, making sure not to slice through the whole pepper. Carefully remove the seeds. Place the jalapeños cut side down on a broiler pan. Broil until their skins just begin to blister, about 2 minutes. Remove and set aside until they are cool enough to handle.
Meanwhile, in a small bowl, combine the goat cheese, garlic, Peppadews, and brine. Stuff 2 tablespoons of the goat cheese mixture into each jalapeño, wiping off any cheese on the outside of the peppers. Place the stuffed jalapeños back on the broiler pan, cheese side up, and broil until the cheese turns golden brown, about 6 minutes, rotating the pan every couple of minutes to ensure even cooking.
Tags:
cookbook
,
gardening
,
jalapeños