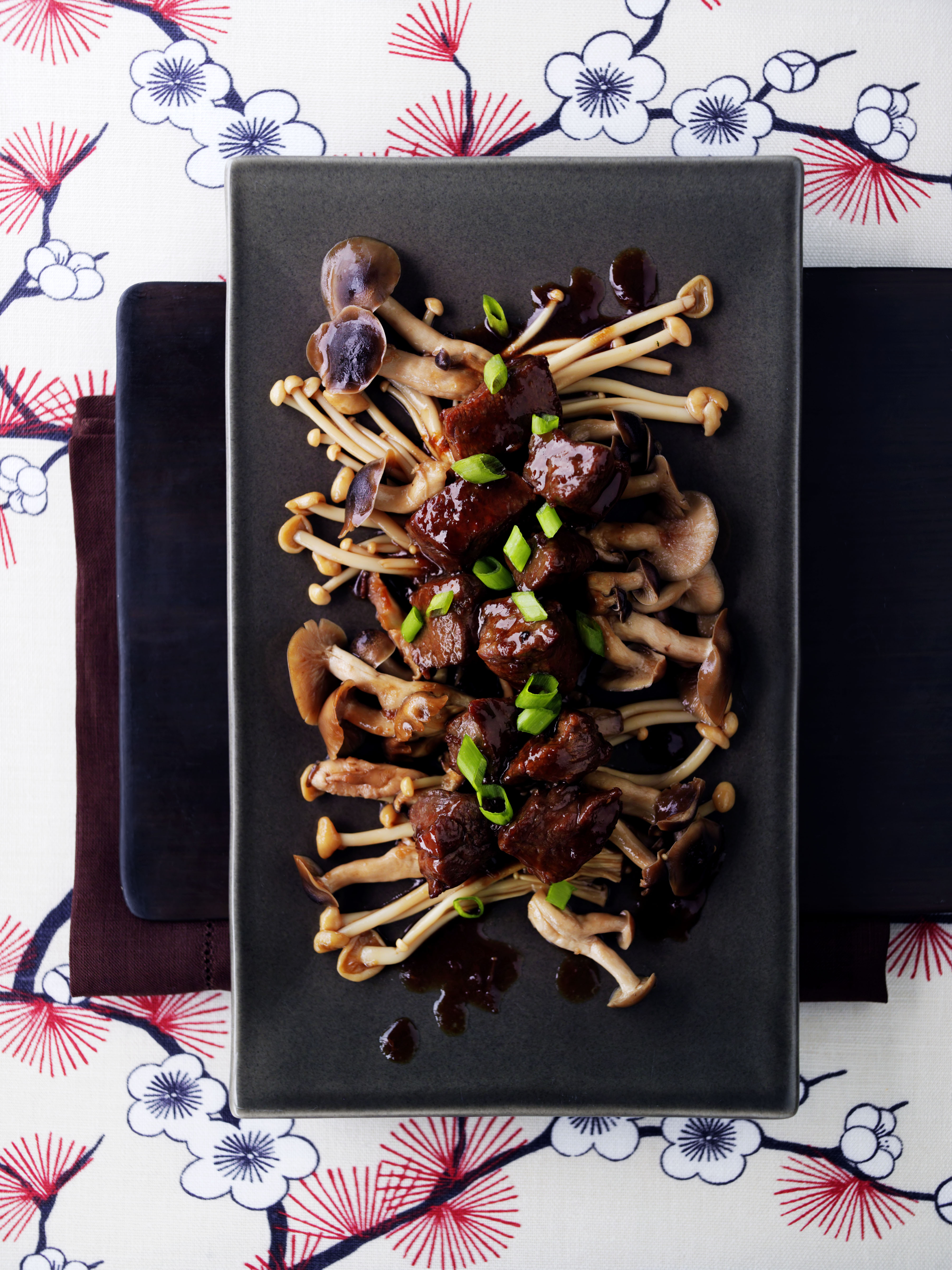 I often think of mushrooms in the dead of winter or the tail-end of fall when my autumn wardrobe has conceded to my thickest sweaters and most downy (read: duvet-like) coats, and fashionable footwear has submitted to sturdy boots. There's something so comforting and hearty about their meaty, chewy texture, their seemingly endless spectrum of intense earthy flavors, and, of course, their rich shades of browns, nearly blacks and greys  that perfectly reflect the time of year. Mushrooms are packed with umami, so they bestow a moreish savory quality to almost everything you add them to, especially when they are cooked long and slow and much of their liquid has evaporated leaving behind only a complex matrix of flavor. (For the ultimate umami hit, you can add re-hydrated finely minced dried mushrooms to almost anything.)
There's so much that you can do with these versatile toadstools, and even the simplest preparations are impressive to a last minute drop-in supper guest or that special dinner date you've waited an age to entertain. One of my favorite "whip-up-in-10" recipes is to sauté sliced brown or halved button mushrooms in a really hot skillet with lots of butter and minced garlic then throw in a handful of chopped parsley and/or tarragon just before removing the pan fro the heat. I serve this sexy, drippy hot melange over thick hunks of toasted bread. For extra decadence spread ricotta thickly over the bread before applying the mushrooms. All that's left to do is finish with a flourish of freshly ground black pepper. This is a great basic mushroom recipe to keep in your back pocket, as it can be adapted and reinvented in countless ways. Try folding in into cream cheese and tossing through penne pasta, or, tuck it inside a steak sandwich. Or, add a pinch of chili flakes and combine with cooked rice before stuffing inside a pepper and roasting. Or, stir in crisped cubes of pancetta and serve atop a bed of creamy scrambled egg for a brunch to-die-for (you can also encase it in a warm tortilla with a dollop of sour cream and some hot sauce for a tasty breakfast burrito). Or, roast off chunks of butternut squash tossed with olive oil and thyme then combine with the mushroom mixture and fold into risotto made with either chicken or vegetable broth.
Another great recipe that I turn to time and time again is a teriyaki beef stir-fry loaded with whatever mushrooms I can get my hands on, but if I want to remain authentic to the dish's origins, and the grocery store co-operates, I use a mix of shiitake, enoki and shimeji mushrooms. Presented as in the photo above, it really makes for a relatively simple but wonderfully eye-catching mid-week dinner party dish. I first developed the recipe four years ago when I was working on a Japanese inspired menu to accompany sake for a drinks feature. Feel free to enjoy it with sake, cold beer or just on its own accompanied with nothing but with a healthy appetite!
Click ahead for vital "mushroom know-how" info, and for recipe.
Mushroom Know-How
Buying
As a general rule, look for firm, plump, clean specimens. Avoid any with moldy, or wet slimy patches.
Storing
Store your mushrooms in loosely closed paper bags, not plastic bags if you can help it – as plastic will make them sweat and the excess moisture will make them spoil. Paper bags, on the other hand, allow them to breathe. You can place a damp, but not wet or sodden, paper towel in the bag to help keep them moist – you don't want them to dry out.  They'll likely be at their best for 3 to 4 days after you've bought them, but you can keep them for about 8 to 10 days or so – especially if you picked them up at a farmer's market. Don't worry if they look a little dried out a bit – they're still fine to eat
Teriyaki Beef with Lots of Mushrooms
Here's a nugget of information to dazzle your diners with, "teriyaki" is often mistakenly thought to be a specific dish. It's not. It's actually a Japanese cooking technique or method of preparation that involves marinading meat, fish or even vegetables in a dark, rich soy based sauce before grilling or sautéing.
Serves 4
For the marinade
1/2 Tbs. finely grated ginger
3 Tbs. tamari – Japanese soy sauce , or, just whatever soy you have in the cupboard
3 Tbs. mirin (Japanese sweet cooking rice wine – find it in Whole Foods and other large supermarkets) see Notes
1 Tbs. sake
2 Tbs. honey
1 Tbs. water
1 lb. lean sirloin steak, cut into bite-sized chunks
2 Tbs. vegetable oil
2 cloves garlic, finely sliced
1 1/2 lb. mixed  mushrooms (preferably Japanese – but others will do), such as shiitake, enoki, shimeji, roughly torn, or sliced into bite-sized pieces
1 small bunch scallion, green parts only, sliced
1. Combine all the marinade ingredients in a large bowl. Add the steak, mix well until thoroughly coated, cover with plastic wrap and set aside at room temperature for 30 minutes, or leave in the fridge for up to 3 hours.
2. Remove the beef from the fridge 20 minutes before you are ready to cook to allow it to come up to room temperature. Heat the vegetable oil in a wok or a large sauté pan over medium-hot heat. When hot, add the garlic and stir-fry for about 1 minute.
2. Lift the steak out of the marinade, letting as much of the excess liquid drip back into the bowl as possible. Keep the remaining marinade. Turn up the heat, and add the steak to the pan or wok. Stir-fry over high heat until well browned and sealed all over, but still pink inside. Remove the steak from the pan, transfer to a plate and set aside
3. Add the mushrooms to the hot pan (you might need to add a little more oil), cook, stirring, for 1 to 2  minutes. Add the remaining teriyaki marinade, bring to the boil, then cook for 2 to 4 minutes until the mushrooms are tender and the sauce reduced.
4. Return the steak to the pan, stir through the mushrooms and reduce the heat to low. Simmer very gently for 1 minute. Taste and add more soy or tamari if necessary. Remove from the heat. Serve with udon noodles or sticky rice, garnished with the sliced scallion.
Notes:
– Tamari, unlike regular soy sauce is wheat-free. Believe it or not, regular soy can contain up to 40% to 60% wheat. "Experts" say that because tamari contains a higher proportion of soybeans, it has a more complex flavor than regular soy, with a smoother, richer taste.
– If you can't find mirin, you can substitute with sake combined with a pinch of sugar.
Tags:
beef
,
enoki
,
mushrooms
,
shiitake
,
shimeji
,
steak