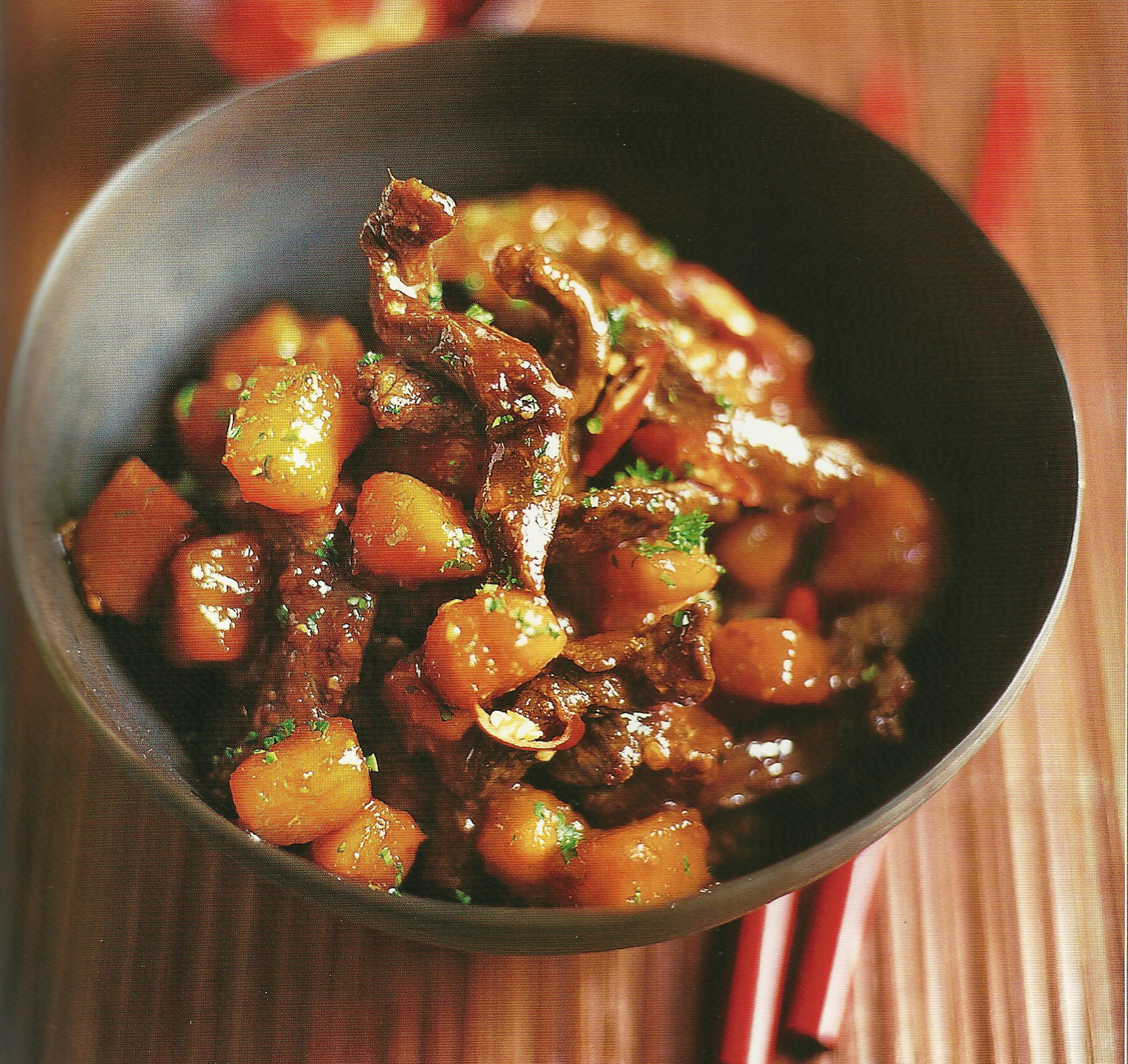 Charity tells me that she's been inundated with squash of late. It wasn't long ago that she had an almost identical complaint – only then it was summer squash that she was getting buried under. Winter squash is a different beast, but one that I love to get my hands on. Butternut squash in particular is a favorite, in part because it's so versatile, but also because with its creamy, velvety texture it's a wonderfully healthy yet perfectly unctuous alternative to cream and cheese. I've had lasagnas where ricotta cheese and béchamel sauce have been ousted by butternut puree and they've been out-of-this world decadent. As for thick, rich butternut soup…ooohhh…it's what winter is made for.
But here's a different kind of recipe – one that doesn't require a hard slog in the kitchen to reap great rewards. It's a remarkably easy 15 minute stir-fry, and before you think, but impossible, there's no way butternut squash can be cooked with a flash in the pan, let me let you in on a secret. You can absolutely stir-fry or indeed pan fry butternut squash, you simply need to peel it, cube it, and blanch it in boiling salted water for a few mins until just on the wrong side of tender. (It'll finish cooking in the pan or wok.) In this dish I pair the sweet squash with strips of sirloin steak that have been marinated soy sauce and  the star flavoring, Szechuan peppercorns and cooked with ginger, garlic, sweet chili sauce. Hold up – I hear you say. Szechuan what? These so-called peppercorns aren't really peppercorns at all,  and aren't nearly as pungent. They're in fact dried little berries that make your tongue all tingly when you bite into them. In addition to the good times they bring to your mouth, they also add an aromatic floral, lemony flavor to the dish. You can order them online from Kalustyans in New York City.
This stir-fry is perfect on a cold November evening served with jasmine or Basmati rice, and a nice cold beer  – if you are so inclined.
And for your entertainment pleasure, here's a video of yours truly preparing the dish on CBS Morning News with Tony Tantillo!
Beef with Butternut Squash and Szechuan Peppercorns
From Chop, Sizzle & Stir by Nadia Arumugam
SERVES 4 TO 6
1 ½ teaspoons Szechuan peppercorns
4 tablespoons soy sauce
1 ¼ pounds sirloin steak, thinly sliced
1 (16-ounce) butternut squash, peeled, seeded and cubed
2 tablespoons peanut oil
2 garlic cloves, thinly sliced
1 tablespoon finely grated ginger
3 tablespoons sweet chili sauce
¼ cup coarsely chopped fresh cilantro
Coarsely grind Szechuan peppercorns and put into a large heavy-duty zip-close bag. (see note) Add 2 tablespoons of the soy sauce and the sliced beef. Seal the bag and refrigerate for 15 to 20 minutes. Use this time to prepare your other ingredients.
Bring a medium pot of lightly salted water to a boil. Add squash, return to boil, and cook for 5 minutes or until just tender. Drain well and set aside.
Remove beef from bag and discard marinade. Heat oil in a wok over medium high heat until hot. Add beef and stir-fry until browned. Transfer to a dish.
Add garlic and ginger to wok and stirfry until golden and fragrant. Add squash, chili sauce, remaining soy sauce and 1 tablespoon of water; stir well. Bring to boil, then lower heat and simmer 2 minutes. Return beef to wok and stir-fry until cooked through. Remove from heat and stir in cilantro before serving.
 Note: You can grind the Szechuan peppercorns in a pestle and mortar, or place them in a zip lock bag and bash with the base of a heavy saucepan until coarsely crushed.
Tags:
beef
,
butternut squash